Asahi makes Australian TV debut as part of brand's largest investment in market since launch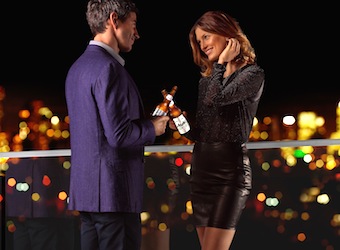 Asahi Super Dry launched its biggest campaign in the Australian market at the weekend with the brand's first ever Australian TV spot, with a campaign that centres around "a reverse Cindarella story."
'Is He Asahi?' debuted during the live broadcast of the Bledisloe Cup match on Network Ten on Saturday evening (16 August).
The campaign asks a simple question: 'Is He Asahi?'. The brand calls it a "reverse Cinderella story of a woman's quest to find the man who drinks Asahi."
Produced and directed by integrated agency Cummins & Partners, 'Is He Asahi?' will air for three months, and will be supported by national media worth around $2.5 million, making it the biggest investment into the Asahi Super Dry brand in this market since its introduction into Australia.
Michael Vousden, beer and cider marketing manager, says that the campaign is a fantastic creative vehicle to raise awareness and drive purchase consideration with consumers nationwide on the Asahi Super Dry brand: "'Is He Asahi?' educates the broader market about the Asahi Super Dry drinker. The classic Cinderella story is a story of a man on a quest to find his perfect woman – we thought this was a suitable metaphor to use to tell the story of Asahi, albeit with a significant twist. We are proud of the campaign and look forward to seeing it in market."
The new campaign marks Asahi Super Dry's first ever TV presence in Australia, intended to raise brand awareness in order to build the brand for long term equity growth in this market.
http://youtu.be/-cSsT8TAP-0