AT&T puts the 'wow' back into TVCs with near-live Olympic footage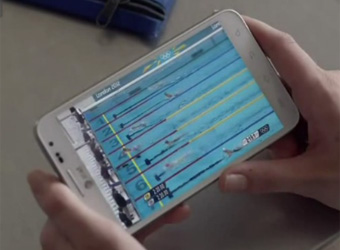 In a feat of advertising agility, American telecommunications giant AT&T used footage of gold-medal performances from the Olympics just hours after the event was run to develop a series of near live TV spots.
Created by BBDO New York, the executions were a bid to maximise the effectiveness of the brand's Olympic sponsorship by linking to the Game's buzz while it was still at its height. Six TVCs were created utilising footage from swimming, gymnastics and track and field athletes, including world-beating performances from Rebecca Soni and Ryan Lochte in the pool.
In the spots, aspiring athletes are shown watching one of the Olympians' on their smartphones and then making a note of the winning time or score as motivation. Dubbed 'The New Possible', a new slant on AT&T's 'Rethink Possible' positioning specifically for the Olympics, the campaign was created in advance, with hundreds of different endings to account for a predicted range of winning times, according to fastcocreate.com.
AT&T is understood to have worked with long-time broadcasting partner NBC to have the footage couriered to its London production company, which inserted selected content into the pre-shot ad. The ads were then aired later in the day or the following day on US television.
"Getting the footage into the commercial makes it more real and tangible," Esther Lee, AT&T's senior vice-president of brand marketing and advertising, told the Financial Times.  "It is the age-old adage about what makes news. It is the things that make people think 'wow'. We have to keep doing things that surprise people," Lee said.
The strategy has been used before, by Visa in a 2008 spot featuring Michael Phelps. Procter & Gamble, also leveraged similar tactics during the Games for its 'Thank you, Mom' campaign starring mothers of US competitors in the Games, according to Warc.