Aus ad revenue plummets for News as publishing arm struggles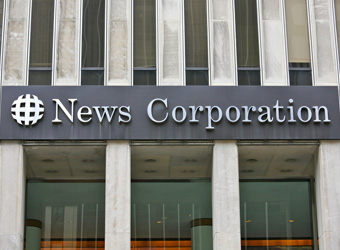 News Corp's Australian publishing operations have suffered a significant fall in earnings as advertising revenues continue to plummet.
While the company as a whole tripled its profit for the first quarter of the financial year, thanks primarily to a US$1.4 billion sale of its stake in software company NDS, its publishing business' earnings before interest and tax (EBIT) fell 48% on the previous year to US$57 million.
Operating income for the company's publishing arm dropped by US$53 million for the quarter, due to shrinking ad revenues, particular in the Australian and American markets.
"In Australian publishing, the decline in display and classified advertising has clearly hit these businesses," News Corp chief operating officer Chase Carey told analysts earlier today.
Chairman and chief executive Rupert Murdoch said in a statement, "Our operational discipline and focus on innovation continued to drive the company's momentum in our fiscal first quarter, led by double-digit growth in our channels business and the global success of our film and television content.
"Even against considerable currency headwinds due to a stronger dollar, we were able to increase News Corp's revenue and adjusted segment operating profit over the prior year quarter while continuing to make key investments to position us for future growth.
"We are committed to leading the change that the marketplace and our customers demands as the company builds on its success at leveraging multi-platform opportunities for our content. We believe that our ability to do so will be enhanced by the flexibility and management focus that will result from the proposed separation of our entertainment and publishing businesses.
"We have made considerable progress and look forward to providing more details by the end of the calendar year."
The changes alluded to include a restructure of its Australian newsrooms along the East coast, reducing the number of newsrooms from 19 to five.
News Corp's total revenue in the three months to September was $US8.14 billion, up 2% from $US7.96 billion for the same period a year ago.
The company expects its EBIT to grow in the "high singles to low double digit range" in 2012/13, from an adjusted $US5.6 billion in 2011/12. Its cable network division posted the strongest growth in first quarter earnings, generating $US953 million in EBIT, up 23% from the prior corresponding period.
In another blow for the business, the UK phone hacking scandal cost $US67 million.
News is due to undergo a historic split next year, when its entertainment and publishing business will be separated into two listed media companies, according to The Australian. The current period's results included $US5m of costs related to the proposed move.
Image source: Alex E. Proimos.