Foxtel launches live and catch-up TV app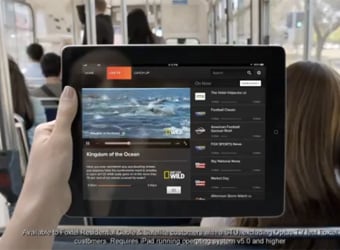 Foxtel has launched its new iPad app making 21 of its channels available for subscribers to watch on the go.
'Foxtel Go' is now available for download from Apple's App Store, signalling the pay-TV network's first major effort to adapt to multi-screen viewing behaviour. Users will be able to watch shows live, catch up on programs they've missed, check the program guide and set recordings remotely from an iPad.
The channels added to the service so far include The LifeStyle Channel, A&E, Sky News, National Geographic, Discovery, Disney, Cartoon Network, Channel [V], and Cbeebies.
Foxtel CEO Richard Freudenstein says, "The TV landscape has changed, viewers are not just watching TV in the living room they're watching TV on the way to work, at the beach or in another room of the house.
"Foxtel Go is the biggest thing we've launched since digital and iQ. It lets customers take their entertainment with them on the go, and as the app is included with a customer's subscription, it's a fantastic value proposition."