Australia's first Heineken flagship venue to launch at Sydney Airport
Australia's first flagship Heineken venue will open at Sydney Airport in September.
Australia's first flagship Heineken venue will be the newest addition to the enhanced airside experience at Sydney Airport's T1 as it prepares to launch towards the end of September.
Heineken House at Sydney Airport will be the ultimate pre-flight destination for travellers to relax and experience a premium, ice-cold Heineken and all the latest Heineken innovation before their international journey begins.
The feature innovation new to Australia will be Heineken served 'Extra Cold'. Delivered through a partly-frozen draught column, beer is served between -1 and -3 degrees Celsius and poured into frozen glasses.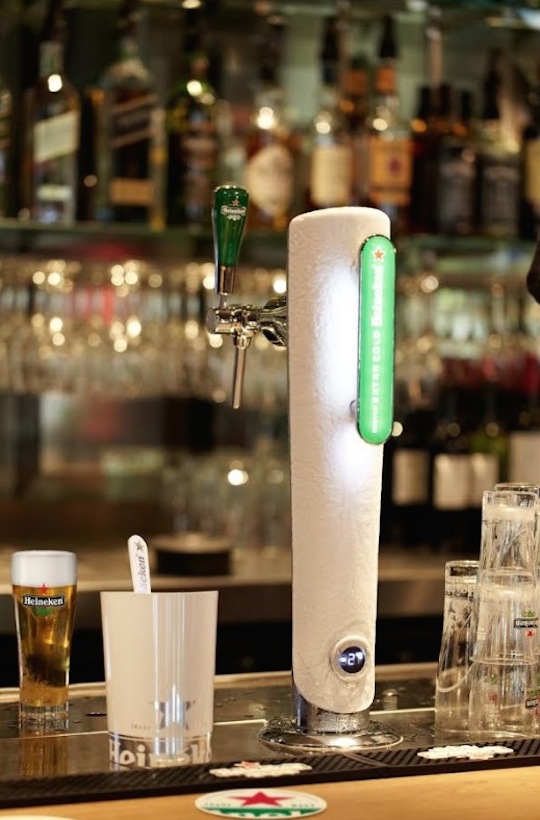 ---
RELATED: Coopers ends Heineken's 20-year run as beer of Australian Open »
---
Heineken House will also provide consumers with the opportunity to trial Heineken's latest innovation, Heineken 3, following its recent launch in Australia.
The Bistro by Wolfgang Puck, adjoining Heineken House, will supply a range of premium bar food including gourmet wood-fired pizzas.
"The launch of Heineken House at Sydney Airport's T1 International terminal is an exciting new era for Heineken in Australia," says Andrew Campbell, managing director, Heineken-Lion Australia. "By launching at Sydney Airport, we have the opportunity to provide a memorable experience to millions of international travellers every year and demonstrate our position as the world's leading international premium beer.
"With our latest and greatest innovations on parade and our expert bar staff making sure travellers enjoy a premium beer experience, Heineken House will be the ultimate destination for consumers looking to kick off their journey in style."
Following extensive renovations to transform the airside experience, Heineken House will form part of the premium dining precinct City View, a new food and beverage precinct created by Emirates Leisure Retail in collaboration with Sydney Airport, which will also showcase Kitchen By Mike, scheduled to open next month.
---
RELATED: Up, up and away: Martin Salter on audience and retail evolution at Sydney Airport » 
---
Designed by award-winning Australian architect, Mike McCann of Dreamtime Australia Design, the bar features a signature Heineken eight-metre-high bottle wall towering over the bar as its key centrepiece. Floor-to-ceiling windows and an open plan offer guests the opportunity to take in the bustling atmosphere at the airport and views of the city skyline, while enjoying their premium experience from Heineken.
Heineken House at Sydney Airport is the fifth airport bar that Heineken has opened around the world following the first launch in Hong Kong in 2007 and forms part of Heineken's strategy to drive further domestic and international brand growth in the coming months.