AWARD winners announced to wrap up Circus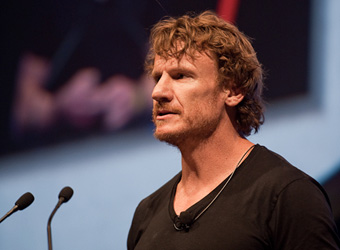 Capping off this week's festival of commercial creativity, Circus, the 'AWARD' awards were presented in front of over 800 guests at Sydney's CarriageWorks last night.
Scooping the field of 16 gold trophies that were awarded, JWT Shanghai picked up four gold awards for its 'Heaven and Hell' campaign and Clemenger BBDO scored three gold trophies for NAB's 'Break Up' campaign.
Also multiple winners on the night were Leo Burnett Sydney for 'Watermark' and DDB Singapore for 'Musical Fitting Rooms' which scored two wins each. In the digital category's first year in the awards, Colenso BBDO New Zealand took out top honours for Levi Strauss & Co's ' Rear View Girls'.
Commenting on the results, chairman of judges Nick Law says the best work got attention by hitting on cultural nerves this year. "In most cases the concepts were thoughtful and the craft solid; but it was the context that gave the work power… a sensitivity to how the work fit in time and place," Law says.
Of the big awards on the night, the Network of the Year went to BBDO, the AWARD Agency of the Year went to Clemenger BBDO Melbourne and Lion was proclaimed AWARD Client of The Year for the second year in a row. Ray Lawrence, a film director of 25 years, was inducted into the AWARD Hall of Fame.
The full list of winners of gold awards by category is shown below.
Category: Promotion and Experiential
Title: NAB Break Up
Client: NAB
Company: Clemenger BBDO Melbourne
GOLD: 2
Category: Integrated Campaign
Title: NAB Break Up
Client: NAB
Company: Clemenger BBDO Melbourne
GOLD: 1
Title: Watermark
Client: Diageo Australia
Company: Leo Burnett Sydney
GOLD: 1
Category: Print Craft
Title: Heaven and Hell
Client: Samsonite
Company: JWT Shanghai
2 GOLD
Category: Print
Title: Heaven and Hell
Client: Samsonite
Company: JWT Shanghai
1 GOLD
Category: Posters and Outdoor
Title: Heaven and Hell
Client: Samsonite
Company: JWT Shanghai
1 GOLD
Category: Direct Marketing
Title: Musical Fitting Rooms
Client: Star Hub Pte Ltd
Company: DDB Singapore
GOLD: 2
Category: New Product Development
Title: Watermark
Client: Diageo Australia
Company: Leo Burnett Sydney
GOLD: 1
Title: GAME SIGNATURES
Client: AFL
Company: GPY&R Melbourne
GOLD: 1
Category: Digital
Title: Rear View Girls – Los Angeles
Client: Levi Strauss & Co. San Francisco
Company: Colenso BBDO New Zealand
GOLD: 1
Category: Film and Video
Title: Super In. Super Out.
Client: Lion
Company: Publicis Mojo Sydney
GOLD: 1
Category: Craft in Film
Title: HK Honey
Client: Nokia
Company: The Editors
GOLD: 1
Title: The Ship Song Project
Client: The Sydney Opera House
Company: Turning Studios
GOLD: 1
This year's awards also highlighted the top 5 agency, clients, production companies and Network of the Year:
Production Company of the Year  – Top 5
Revolver / Will O'Rourke
Exit Films
The Sweet Shop
GoodOil
Finch
Agency of the year  –  Top 5
Clemenger BBDO Melbourne
Leo Burnett Sydney
Colenso BBDO New Zealand
DDB Singapore
Publicis Mojo Sydney
Client of the Year – Top 5
Lion
NAB
Equal Third: Samsonite & Diageo
Mars
Network of the Year – Top 5
BBDO
DDB
Leo Burnett
JWT
Publicis

Best in show
Title: NAB Break Up
Client: NAB
Company: Clemenger BBDO Melbourne