Baby boomers new digital natives, rival young for online engagement
Baby boomers are the new digital natives, according to July's 'Online Landscape Review' from Nielsen, which claims they are almost as engaged online as their younger cohorts.
Australians 50 to 64 years of age account for 20% of all online traffic, the research agency says, with 3.2 million of what is traditionally seen as a less tech-savvy group spending an average of 95 hours online each per month.
And reversing trends seen among the younger generations, male baby boomers are more active, spending 96.5 hours online each across 104 sessions per month, compared to 93.5 hours each across 93 sessions per month for females.
Nielsen's managing director of media, Matt Bruce, says the lucrative and rapidly maturing boomer segment shares similar characteristics to the US baby boomer market. "While it's well established that Boomers have the most money to spend, there is a bias to believe that older people spend less of what they have," Bruce says, pointing to the opportunity behind connecting with them online.
Three in four online boomers visited Facebook in July and 42% own a smartphone. As a group, they're more likely to use LinkedIn but less likely to visit or use blogs or Twitter.
Gen X – Australians aged between 35 to 49 years – eclipsed Gen Y (18 to 34 year olds) as the most active group online spending 95.75 hours online across 94 sessions compared to 84 hours online across 72 sessions.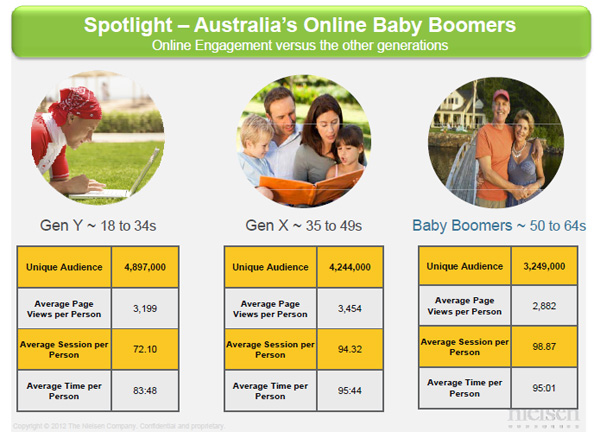 No change was recorded in the ranking of the top ten website groups, or brands, in July, with time online for the month relatively steady. Mobile page views continue to rise however, up 12% from June 2012 and 130% since August 2011.