Big brands are tapping startups at CES for the next big thing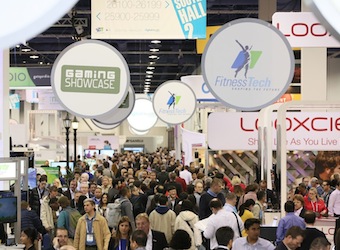 The list of non-tech marketers attending the Consumer Electronics Show (CES), the world's largest technology conference and exhibition in Las Vegas, has been steadily growing. Automakers are an obvious match on their mission to develop the cars of the future, but this year has seen a number of consumer goods companies walking the exhibition floor and hold a flurry of more private meetings.
Unilever, Nestlé and Kimberly-Clark are all there in Las Vegas this week, sniffing out developments by start-ups and established tech companies that can help them connect with Gen Y, primarily. It's using start-ups as external innovation teams.
"We are always keeping our eye out for the next big thing," said Lou Paik, Unilever's director of shopper marketing, told Fast Company. Unilever is actively looking for technology solutions that give access to new online marketing channels, he said. "Startups are the best partners for this. They are our eyes and ears on the ground."
Nestlé's mission is to discover new technology that will give its biggest brand, Nescafé, an edge in the competitive home coffee market. More specifically, it wants to reach Gen Y with sustainability and social messaging about its coffee.
"[Technology] changes and enables consumer behaviour and CES is a showcase of that," Nescafé CMO Sean Murphy said during a workshop in which several tech companies had the opportunity to pitch the brand. Included were bigger players like Spotify and Amazon as well as start-ups such as augmented reality app, Blippar, and provider of cloud connectivity for the internet of things, Ayla Networks.
Pitches ranged from interactive packaging to connected coffee cups to a smartphone-controlled, socially-enabled coffee machine. "Waiting until this is already in market, you're already too late," said Murphy. "The role of the coffee machine and connectivity is a given – we just have to decide the play we want to make," he said later.
Part of the game, said Murphy, is moving quickly. "You don't want to spend two years getting something in-market."
Murphy also noted the need to find long-term ideas that will steer the market in coming years.
That's a sentiment confirmed by Kimberly-Clark's CMO, Clive Sirkin. It is Kimberly-Clark's first CES, but Sirkin says the biggest reason for his attendance is to open up to new ideas. That's central to how it goes to market and the core to success, he says. "The biggest reason we're here is to make sure we don't become insular," he told AdAge. It's very easy to get myopic as brand marketer."
Photo credit: CEA