Cadbury's latest brand campaign includes its largest social activation yet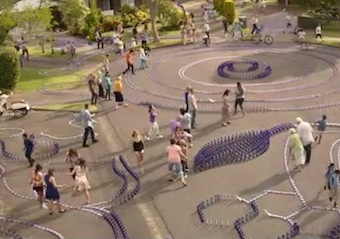 Cadbury is launching its largest social activation campaign yet as part of a new brand campaign for Dairy Milk that includes digital media, print, TV and outdoor activity.
To celebrate the launch of its new Dairy Milk flavours, the company has updated the packaging of its flavoured blocks range and will soon launch a dedicated Cadbury Dairy Milk Facebook page.
The company announced a series of upcoming experiential campaigns where consumers will be invited to trial different flavours and engage share their favourites via social media.
The results of the trials will later be included in broadcast TV ads later in the year.
The new TVC features an excited neighbourhood chasing a domino rally of Cadbury Dairy Milk blocks.
"Our campaign will invite everyone on a journey to see, share and participate in the wonderful world of Cadbury Dairy Milk, introducing the true breadth and depth of all flavours in the range," Cadbury head of marketing Steve Chantry said in a press release.
http://youtu.be/9sdOLJ5RImE