Campaign 2013: it's on!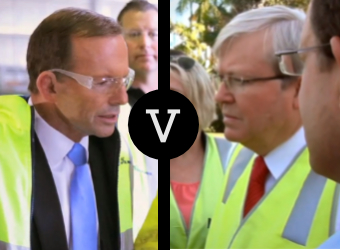 If you haven't already heard, there is to be an election in just over a month, which means we have a whole lot of political campaigning, advertising and spin to look forward to over the next few weeks.
The Labor party was quick to get things started after the announcement was made yesterday via email with the subject line "It's on!", soon after a Labor TV spot was launched during the 6pm news bulletins called, 'A New Way' that featured Prime Minister Kevin Rudd talking about his economical goals for the the future.
Labor has obtained the services of British social media strategist Matthew McGregor, who worked on Barack Obama's last campaign and will use ad veteran Dee Madigan to co-ordinate Labor's campaign efforts in conjunction with group Essential Media.
The Coalition has stuck with old favourite, Mark Pearson, who has worked with the Liberals since Howard's successful leadership campaign that saw him move into the lodge back in 1996.
A Liberal party spot titled 'New Hope' has appeared on the Lib's Youtube channel in the last few hours, focusing on its plan to build a strong, prosperous economy and a safe, secure Australia.
http://www.youtube.com/watch?v=nk0E3lyx4EU&feature=share&list=UU3rLL1h9swUpQszCPJPVoOg
Media buyers and marketing analysts are estimating that the small gap in popularity between the two parties will stimulate spending, with Aegis Media Pacific executive chairman Harold Mitchell telling the The Australian he expects the two major parties to spend between $20-$25 million each, and that this will be the highest-spending federal election ever, because both sides believe they can win.
The Australian also reports buyers are predicting that 15% of total political spending will be on digital media, with about 25% of this going to social media – namely Facebook.