Chatime uses QR codes and AR in its latest campaign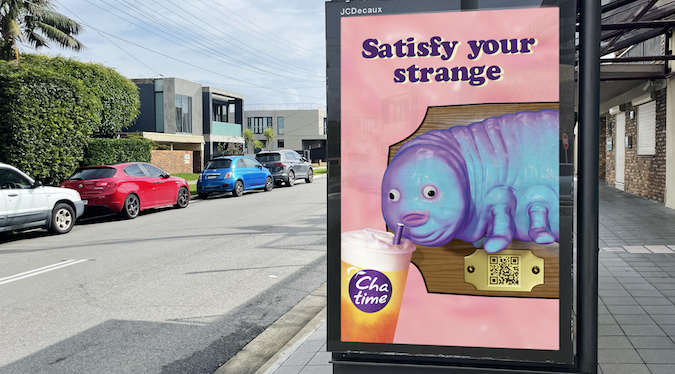 Australia's leading bubble tea franchise, Chatime, has launched a digital OOH campaign.  The campaign is an immersive ode to Australians 'satisfying their strange'.
The campaign is the next in a flood of companies using QR technology. Utilising out of home advertising, the immersive campaign features a QR code, which creates an augmented reality (AR) for those that scan it. 
After viewers have scanned, they are brought to an immersive experience that shows them a strange and surprising in-situ animation of a featured creature. It has also been built to be instantly shareable on Instagram. 
Featuring a range of seven weird characters, the campaign celebrates the unusual drink and brand. Created with digital artist Sam Lyon, the squishy, shiny textures replicate the nature of the bubbly product. 
The agency behind the campaign, Strategy, have spoken about the campaign.
"Chatime's true superpower is its oddness. You can both drink it and chew it. It's not a pudding but sometimes it has pudding in it. And it comes in the most deliciously bizarre flavour mashups imaginable from popping pearls, to sago and cream cheese. In a world where so much is familiar, that oddness really is brilliant", says Strategy partner Dave Hartmann. 
Chatime's campaign will be supported by a media strategy developed by Special, and delivered in collaboration with Love Media and Wired Digital. It launched with a teaser campaign consisting of ambient street posters and floor decals posted around Sydney and Melbourne. This will be followed by a high impact National street furniture campaign. In-store, digital and social activity will kick off in owned channels to support the OOH, encouraging loyalists to engage with the strange characters, and will culminate with a #SatisfyYourStrange TikTok partnership and challenge in March. 
Chatime – Satisfy Your Strange | Interactive OOH from Special Group on Vimeo.