Coles CMO: 'We're absolutely fixated on building the largest brand in Australia'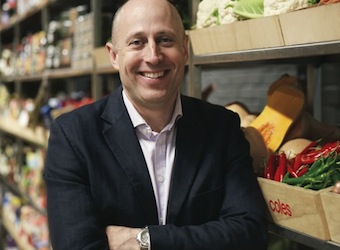 Masterchef, Status Quo singing 'Down Down', Curtis Stone, One Direction, My Kitchen Rules, Heston Blumenthal and of course, that Big Red Hand, are just a few of the many strings that make up the bow of brand Coles.
Coles list of recent marketing campaigns is impressive to say the least. So impressive that their marketing and store development director and member of the Coles board, Simon McDowell, was last night awarded the Australian Marketing Institute's (AMI) Certified Practising Marketer of the Year Award.
McDowell spoke to Marketing after the announcement was made, and was keen to point out that the award was as much of a team effort as it is a personal achievement.
"We're absolutely fixated on building the largest brand in Australia that's for sure, and the job of the marketing team at Coles after the last four years has been to create what we know are very compelling, engaging and unique brand platforms and there's lots of them," McDowell says.
In a statement released last night, the AMI described McDowell as being, "responsible for leading every aspect of both functions across all the businesses, brands and store formats of the Coles Group."
McDowell joined Coles in 2009 as part of the management team brought together under CEO Ian McLeod to deliver the high profile Coles business turnaround for Wesfarmers and has worked across the retail, media/entertainment, consumer packaged goods and advertising sectors with global companies including Sony and The Coca-Cola Company.
Further reading: Career profile: Simon McDowell (August 2012) »
At the start of the week, Coles kicked off its Christmas advertising, featuring celebrity chef Heston Blumenthal. The timing of the announcement came soon after Woolworths' announced they had recruited fellow Englishman Jamie Oliver as part of its latest campaign.
Two big supermarkets, using two British celebrity chefs, sparks the question of a 'me too' competitiveness between to two big supermarkets. This is an allegation McDowell denies, but is quick to point out that the use of celebrity chefs, particularly with the use of Curtis Stone over the past five or so years, was an initiative first implemented by Coles and something that has been extremely effective in the growth of the Coles brand.
"From a retail point of view, some products and ranges start to come into our stores kind of about now, so you would see that, it be the Coles specific," says McDowell.
"In the world of celebrity chefs, Coles has been working with Curtis Stone for the past five years and that's something that has been wonderful for out brand and something we're very proud of and we're continuing to do that, so that's certainly not news for Coles, we have been at this for five years as Australia has seen and a couple of weeks ago we decided to add a cheery on the cake, signing a multi-year deal with Heston [Blumenthal]. It's good to be on the leading edge."
"For us the trick is to create a brand for our customers that is compelling, engaging and most importantly unique, you know, there is no point being a 'me too'  it's all about being me different and that's been the push from a brand perspective over the last four years in the Coles turn around and it's certainly not something that we are going to stop doing."
Further reading: All the winners and coverage of last night's Awards for Marketing Excellence »