Companies need to embrace digital as a cashless Australia nears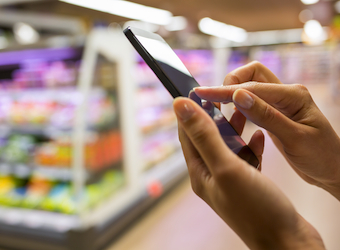 It was once considered a pipe dream, but mobile payment has steadily moved to the forefront, as major retailers investigate how the technology will enable them to enhance their customer's experience.
Major retailers from around the globe are currently gathered in New York for the National Retailers Federation Convention and Expo, where the prospect of using mobile payment as a means of enhancing convenience, and further utilising the popular technology will be a major topic.
While still in its infancy, mobile payments could soon become the norm in Australia, with companies already starting to experiment with the technology.
For example, the Australian Turf Club recently became the first multi-outlet sporting venue in Australia to implement the technology, partnering with mobile payment application, Clipp.
The implementation of the transaction system will allow users to pay for food and beverages via Clipp's smartphone app, as well as provide the Australian Turf Club with the ability to monitor customer behaviour with greater ease.
Australian Turf Club COO Tony Partridge said the move was brought about as part of the club's changed digital and customer service strategy.
"In a short space of time we have gone from cash-only sales to universal card acceptance, but we have gone one step further; now all you have to do is show your mobile phone using Clipp. The race day experience is ripe for digital transformation and we are committed to using digital to improve the customer experience," said Partridge.
The notion of a digital transformation in Australia is supported by a recent survey commissioned by MasterCard and conducted by Galaxy Research.
The majority of Australians surveyed (58%) believe that over the next five years, cash will begin to be removed from general use. This notion is backed up by figures released by the Reserve Bank of Australia, which reveal a decline in cash withdrawals from ATM's.
This is where mobile payment may play a significant role in the coming years. As Australia moves towards becoming a cashless country, businesses will need to strive to stay ahead of the curve, with 39% of Australians surveyed saying retailers need to do more to embrace new payment innovations to help eliminate cash.
However, digital solutions to enhance the customer experience aren't restricted to payment. Microsoft announced a host of digital innovations at the National Retailers Federation Convention and Expo, including a cloud based retail store, currently being used in-store by Telstra in an effort to blend its online and offline worlds.
The 'Telstra Future Retail Environment' – which uses Surface Pro and Power BI technology, the 'tap and take'  mechanism – is designed to make shopping easier and more engaging with customers.
More than half of Telstra's transactions are carried out online and with this in mind, the new sytem offers a mix of interactive features, digital content displays and the latest products and services. As part of the change, Telstra has moved away from traditional PCs to tablets, so their staff always have access to the systems and operational tools for the entire duration of the customer interaction.
The move is a big change for Telstra stores, which are typically product-centric and structured in terms of how the store team interacted with customers.
Telstra director of retail operations Andrew Smith said the new system was the result of a "rampant mission" to create a more exciting and efficient retail environment.
Already being trialed in its flagship stores in Melbourne and Sydney, Telstra plans to implement the new digital environment in each of its 370 stores over the coming months.