Cottee's enters juice category with Fruit Crush – a healthier alternative to its famous cordial
Schweppes Australia has extended its Cottee's cordial brand into the fruit juice category. Cottee's Fruit Crush aims to be a healthier alternative to Cottee's cordial range.
The company is aiming with this brand extension to clearly differentiate the new sub-brand as a fruit drink, not a cordial, with new tetra packaging highlighting health and taste cues.
Cottee's Fruit Crush contains no artificial ingredients, 25% fruit juice and has "45% less sugar than the leading lunchbox fruit drink range".
The new products complement the existing Cottee's range, which includes a wide range of flavours of classic cordials and cordials with no added sugar.
Both cordial products contain 50% fruit juice, which becomes 5% when mixed with water according to directions.
Schweppes juice and cordial category manager Matthew Burr said the Cottee's Fruit Crush was designed to provide more choice for parents concerned with the amounts of sugar and additives in children's drinks.
"The key barrier for parents purchasing tetra pack juice is high sugar, followed by artificial ingredients."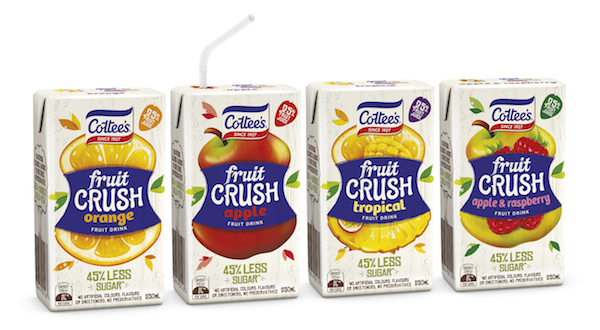 As a low-sugar alternative to juice, fruit drinks are a rapidly growing category for health-conscious consumers.
Schweppes is capitalising on the Cottee's brand's existing brand equity, which has enjoyed household success for nearly a century since passionfruit farmer Spencer Cottee created Passiona.
"Cottee's is a trusted part of Australian childhood. Now being able to take the brand out of the home, as a natural fruit juice drink, to reward kids for effort wherever they are, is a genuinely exciting opportunity," Burr said.
Asprey Creative designed the playful and friendly packages, which include the Cottee's brand logo and distinctive blue, to resonate with those who know and love Cottee's.
Asprey Creative also refreshed the Cottee's brand and cordial range earlier this year.
Remember this classic Cottee's ad from the 80s?