Cricket Australia recruits John Howard and Jimmy Barnes to promote Ashes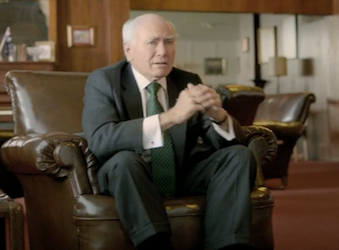 Cricket Australia has launched a new ad campaign promoting the Commonwealth Bank Ashes Series that highlights the intense rivalry between Australia and England and features former Australian Prime Minister John Howard and Aussie rock legend Jimmy Barnes.
John Howard and Jimmy Barnes were asked to appear in the campaign, based on their enduring public support of the game, to remind Australians about 'the national pride at stake.'
Long time cricket fan, Barnes says he was honoured to be involved in the commercial.
"The Ashes is a battle that almost all Australians, including myself, are passionate about. I love what it brings out in every player and every fan," he says.
"It's not just about the winning, it's more about the courage and determination the players show and what that makes the country feel. It's about giving everything you have to be a part of something that brings us all together."
The TV spot was developed by GPY&R, and brings to life the notion that The Ashes is more than a game of cricket, it's the epitome of the world's greatest sporting rivalry with the 'unique ability to unite the nation.'
Cricket Australia senior manager of marketing, Julian Dunne, says the advertising campaign highlights the rivalry and tension that exists among the players and fans in an Ashes year and was delighted with the result.
"Cricket is the number one sport in Australia for passion and we wanted the campaign to capture the intense passion, rivalry and anticipation that only an Ashes Series can deliver," Dunne says.
GPY&R senior copywriter Evan Roberts says he hoped the ad would encourage more Australians to get behind the Australian cricket team as they battle it out for the urn.
"This Ashes campaign is all about the rivalry that exists between Australia and England. The rivalry is bigger than just a game of cricket, wanting to beat the English is part of who we are as a nation. Our hope is that this ad will encourage more Aussies yelling support over the fence, at their TVs and radios this summer," Roberts says.