Crown Golden Ale sponsoring the royal baby of the sporting world
Carlton United Breweries launched its Crown Golden Ale by weaving itself into the story of racing's next generation – the birth of champion horse Black Caviar's foal.
Campaign: Australia's Finest – Crown Golden Ale
Client: Carlton United Breweries
Agency: Mediacom
Introduction
From the long held tradition of wetting the baby's head, to applauding Australia's finest sporting achievements, since 1954 Crown Lager has traditionally been the beer most closely associated with celebrating 'Australia's Finest' moments and people.
While the reasons to celebrate remain constant, a younger generation of Australians had started to move away from this drinking tradition. Crown was beginning to lose sales to more sophisticated, more modern celebratory beverages.
To address this change in tastes, Carlton United Breweries (CUB) set out to develop Crown Golden Ale – a more premium, contemporary offering with a subtle nod to the very 'on-trend' floral/citrus aromas, due to the inclusion of 'galaxy hops'. The result is balanced perfectly against the soft, caramel notes of the crystal and roasted malts.
CUB has gone to great lengths to make sure Crown Lager has Australia's finest ingredients. The backbone of this brand extension is very similar. It still has the highest- grade malt and it has the first choice of Pride of Ringwood hops, which is part of the brand's genetic make-up.
The campaign needed to reinforce Crown's master brand positioning of 'Australia's Finest' – and, at the same time, ensure the next generation also grows up celebrating with an ice-cold Crown. The intention was always to complement rather than cannibalise its existing Crown Lager.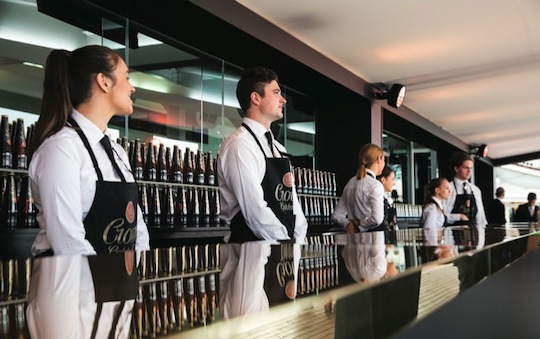 Objectives
The core objective was to successfully launch Crown Golden Ale – reaching 76,000 slab sales in just three months.
The key challenge was to cement Crown Golden Ale in the next generation's celebratory moments – with a budget 10 times smaller than most beer launches.
A digital approach would be an obvious solution to talk to younger drinkers, but with more alcohol advertising restrictions being introduced almost on a daily basis, the opportunities to get the message out there online were beginning to dwindle. The Crown Golden Ale campaign needed a unique way to outsmart rather than outspend.
Brand insight
The 'newly crowned' Golden Ale already had the heritage, but not yet the credibility to prove itself as the next generation of 'Australia's Finest'.
With a degree of uncertainty about the success of the variant, CUB set aside a conservative test budget of $350,000, in a category that normally launches with multimillion-dollar budgets, and heavyweight TV and out-of-home support.
For people of all ages and backgrounds, there's nothing that brings Australians together for a celebration quite like horse racing. We're probably the only country in the world with a public holiday purely dedicated to celebrating a horseracing event. 'The race that stops a nation' as it is also known, Melbourne Cup Day is the 'carnivale' centrepiece of Australia's racing calendar.
In order to integrate Crown Golden Ale into a racing story, it needed to communicate in a way that spoke uniquely to this emerging generation, unmistakably shouting 'Newly Crowned'.
MediaCom found that the younger audience's interest in sport extended far beyond what happens at the track. Everything from the emotional back-stories of professional athletes to the details of gruelling training regimes seemed to fascinate them. Culturally they love a 'battler': individuals who persevere through their commitments despite adversity.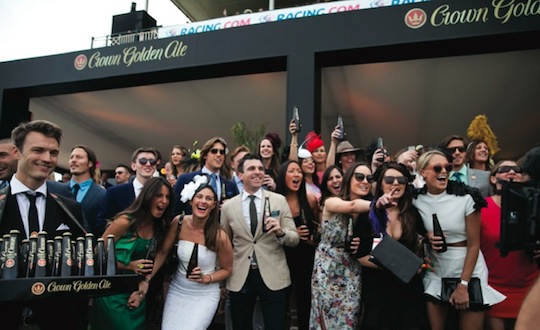 Consumer insight
Australians believe that the story of how you succeed is as important as the success itself.
The real challenge was to find a communication solution tied to horse racing that brought together Australia's love of winning with a compelling and emotive story.
Communications strategy
The communications strategy needed to weave Crown Golden Ale into the story of the next generation of Australia's racing finest.
But what or who is Australia's racing finest? Black Caviar, of course – officially the world's best racehorse and widely called the Queen of Australian Turf. The highest-rated sprinter in history and winner of all her 25 starts, Black Caviar just so happened to be preparing to conceive her first foal.
If Black Caviar represented 'Australia's Finest', then surely nothing would talk to a new generation of racing fans and this idea of 'Newly Crowned' more than the impending birth of Black Caviar's foal.
The main idea was to sponsor the sporting world's version of a royal baby: Black Caviar's unborn foal.
They would follow the progress from the very beginning: following the pregnancy, reflecting on Black Caviar's victories (and the promise of what might come next from her foal), right through to the birth, which the nation would celebrate with a Crown Golden Ale.
By sponsoring Black Caviar's unborn foal, MediaCom could ensure that CUB's conservative budget generated significant earned media.
Typically, commercial brands don't receive editorial coverage in news broadcasts and, due to alcohol restrictions, beer brands cannot be placed into program segments. Given the significance of this story, however, MediaCom was able to circumvent these constraints and ensured Crown Golden Ale was part of racing's biggest story since Black Caviar broke every record going.
Integrated content covering the journey of the pregnancy and the pre-birth of the foal aired live in primetime news, with Black Caviar herself draped in the soon-to-be characteristic black and gold colours of Crown Golden Ale.
Vignettes and montages showed Black Caviar's most famous victories, with continual references to the impending birth and Crown Golden Ale's support of the next generation of Australia's racing finest.
Alongside the sponsorship of the foal, Crown Golden Ale was already the naming rights sponsor of the Caulfield Cup – one of Australia's most prestigious races and one in which Black Caviar never competed. Around the event, Crown spoke of the promise of the 'next generation' completing the mother's unfinished business.
Racing fans quickly picked up on the sponsorship, as blogs and forums filled with chatter around the birth.
When the big moment finally came, moving coverage was awash with Crown's black and gold colours. Sponsorship banners surrounded the birthing paddock and scenes of revellers toasting the occasion – all of course drinking Crown Golden Ale.
Results
The explosion of media and public interest around the story meant the initial $350,000 budget stretched to a whopping $2.7 million in value across media, PR and bonus spots – including access to what is normally alcohol-restricted airtime.
The purchase response to the campaign took both MediaCom and CUB by surprise – delivering double the sales volume initially predicted over that period (up by 103 percent), selling an impressive 153,356 slabs.
Crown Golden Ale jumped to number 15 premium beer, taking an astonishing 2.6 percent chunk of the market, leapfrogging competitive giants such as Asahi, Carlsberg and even Guinness. Golden Ale was also the only top 20 premium SKU with an average case price above $50.
Only 11 percent of Crown Lager drinkers also drank Crown Golden Ale across this period, meaning it absolutely avoided the cannibalisation of the parent brand and drove incremental growth from a younger demographic. In so doing, they ensured future generations would grow up celebrating at life's winning post as their forbears had – with a premium Crown beer.
What was the biggest and best result of all? The birth in mid-September in the New South Wales Hunter Valley of a beautiful thoroughbred foal – fittingly a filly, set for future stardom. The baby foal has a small white marking on her forehead and two white socks on her front feet. The owners have confirmed that she will not be sold, and said it will be a long and patient road from birth to racetrack, but they are still revelling in the excitement of being proud parents.