Cuppin' global
Project: Keepcup.com
Client: KeepCup
Agency: Lava Web Creations
Background
Melbourne company KeepCup invented the first barista-standard, reusable cup. Designed by KeepCup in conjunction with leading industrial design firm CobaltNiche, the cups are reusable and versatile, replacing the need for disposable cups.
There are essentially three ways the cups are sold: via traditional retail stores, via direct handling for corporate clients wanting custom branded cups and via a public website where consumers can buy directly online. The online market presented an ideal vehicle, because it gives users a 24/7 opportunity to view, customise and make purchases. Being a small private company was another key factor in going online, with issues like set-up cost and reach, especially into foreign markets, to consider.
Objectives
The primary goal of the website is to sell directly to the public audience via a secure payment process. There were very few expectations around this exercise, as KeepCup was an entirely new product essentially establishing a new sector of the market for cups and environmentally friendly products. A rough estimate from the client was that 30,000 cups in the first year would be a good achievement. The other broad sales goal was to get individual users ordering multiple cups. Secondary goals included:
educating and communicating KeepCup's marketing messages (brand principles, environmental benefits etc),
tapping into the lucrative gift voucher market, and
pitching at foreign markets to expand the business.
Strategy
A key aspect of this success has been collaboration with Lava Web Creations, which has worked closely with KeepCup to shape and evolve its holistic digital strategy and ultimate roll-out: from an initial online shop, through to introducing major site additions that enhance the user experience, drive online sales and tie in closely with KeepCup's external marketing communications strategy.
Specifically, Lava recommended an initial ecommerce site, with the focal point being product selection. We wanted to get users invested and engaged in their shopping experience. The KeepCup was an ideal product, as it is beautifully styled and the colours can be personalised. Therefore, we planned an interactive, three-dimensional 'design your cup' experience, where users could build and play with their cup, taking inspiration from similar websites such as NIKEiD and Havaianas.
Another key aspect of the strategy was to stagger the roll-out so as to ensure a reasonable initial development time-frame and budget, followed by further site and digital additions
as KeepCup evolves. This involved things like adding new site functionality, localisation, specific foreign market campaigns and embracing new digital media at appropriate intervals, such as mobile and tablets.
Execution
For the purposes of this case study, we have selected three key aspects to focus on:
'Design my KeepCup'
Rather than develop a simple dropdown menu format product selector, Lava instead built a far more ambitious, complex and challenging three-dimensional solution. This involved sourcing three-dimensional renders of the KeepCup, reworking each so the cup element could be split apart, animating then, and integrating this with the KeepCup product warehouse back-end database (which dictates the colours available). The whole experience is geared to get the user interacting with the screen via selecting aspects of the cup (e.g. lid or rim), and select colours that are dynamically applied to the three-dimensional cup. To make the experience fun, and to communicate exactly what the real cups are like, further functionality was added, including the ability to split the cup into pieces and spin it around 360 degrees.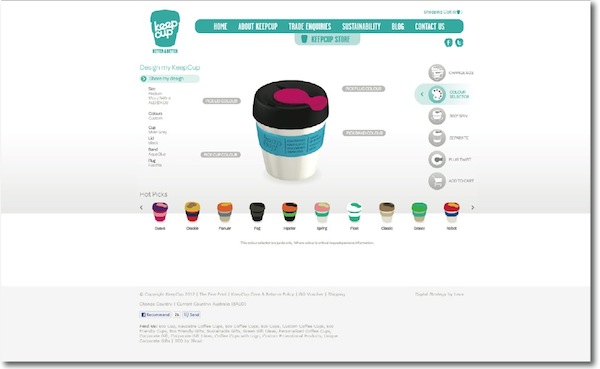 Gift vouchers
A gift voucher system was added to the site in late 2011. This was to capture the Christmas market, and generally tap into a new potential 'gift' market sector. The system enables users to easily purchase and deliver a digital gift certificate that contains a unique promotional code, which can be used to purchase
via the KeepCup website instantly. The entire process is handled by the gift purchaser and recipient, without any human resource effort from the KeepCup staff.
Localisation
KeepCup has had significant international sales and press exposure. It is also an 'eco-blog' darling. When the site was first launched, users were required to select their country when first entering the site. This was important, so
as to reflect pricing and distribution rates specific to each region. In 2011, it was identified that KeepCup was to make a concerted push into particular foreign markets. This presented a great opportunity to rework this aspect of the site, with country selection removed altogether and replaced by automated geographical IP detection.
Results
The statistics indicate a great level of success in line with the key objectives. Since the site launch in November 2010, overall site traffic has increased 160%. Also, online sales doubled between the period January 2011 to October 2011, with sales increasing a further
70% over the Christmas period. The average order size now exceeds two cups, with single orders regularly reaching double figures. The gift voucher system had an immediate impact, with gift vouchers comprising 5% of total sales for the month of December. This has opened up an entirely new market and audience.

The site also acts as a rich source of marketing information. This is crucial to not only introducing and promoting KeepCup, but also to verify its ecofriendly credentials, as well as to engage its audience through blogs and social media.
Localisation had an immediate impact, with foreign sales increasing from 25% in June 2011 to over 50% at present. Not only has this increased foreign sales, but it has also laid the groundwork for truly localised content and SEO (search engine optimisation).