David Jones was savvy to sign Adam Goodes as brand ambassador, says Roy Morgan
Roy Morgan Research has released analysis showing David Jones' recent choice to enlist retired AFL legend and former Australian of the Year Adam Goodes as one of its seven brand ambassadors was a smart one.
David Jones shoppers, in all age groups except those under 25, were more likely than the national average to agree that "Aboriginal culture is an essential component of Australian society".
78% of Australians aged over 14 who shop at David Jones in an average four weeks agree with this statement, compared to 73% of those who shop elsewhere.
The gap between DJs shoppers and the average Australian widens further among older age groups, with a difference of nine percentage points, in both the over-65 and 50-to-64-year-old groups.
Those aged below 25 were the only group in which non-DJs shoppers were more likely to agree with the statement than those who do shop there – 76% of non-DJs shoppers agreed with the statement compared with 74% of DJs shoppers.
Roy Morgan data shows that 46% of regular David Jones shoppers are aged over 50, while those aged below 25 comprise 12% of the total customer base.
"It remains to be seen whether the 'It's in You' campaign (and specifically Goodes' role in it) will result in an increased proportion of this group believing in the importance of Indigenous culture… not to mention an increased number of under-25s shopping at the store in general," Roy Morgan said in a statement. 
Click image to enlarge.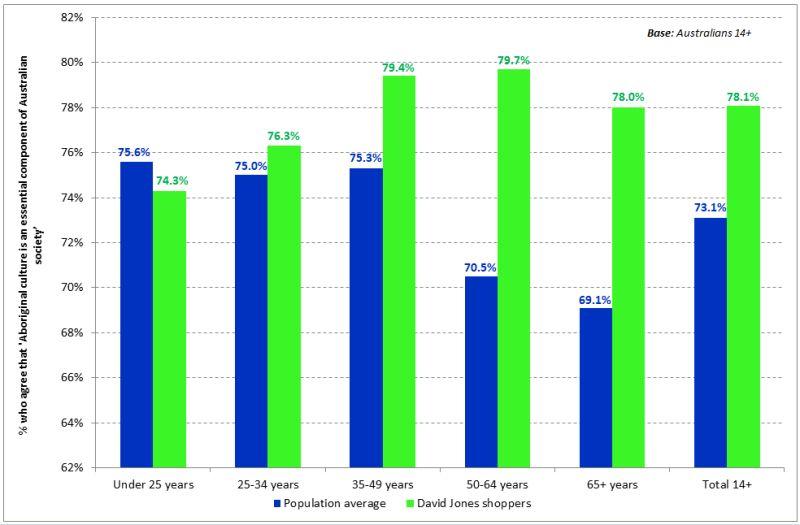 Norman Morris, industry communications director, Roy Morgan Research, says:
"By including Adam Goodes in their campaign and engaging him to help develop their Reconciliation Action Plan, the retailer is demonstrating great awareness of their existing customer base (who tend to be more likely than the population average to believe Indigenous culture is essential to Australian society) while also appealing to other Aussies who feel the same way but who may not have shopped at DJs for a while.
"Furthermore, while the irrational rantings of a few Facebook users may have cast a temporary shadow on the news of Goodes' involvement, our data shows that the proportion of Australians who value our country's rich Indigenous culture is on the rise, having increased from 71% to 73% in just 12 months.
"It's hard to deny that David Jones have made a very strategic and forward-thinking move with this campaign!"    
The ambassador partnership
Goodes will advise David Jones on improving its work relating to Indigenous reconciliation, part of its 'Good Business Journey' plan to become "the most sustainable and responsible retailer in Australia".
David Jones has committed to developing a reconciliation action plan by May 2016.
The 'Good Business Journey' also includes strategies around supporting:
community initiatives,

workplace health and safety and physical and mental wellbeing of employees, and

promotion of greater workplace diversity.
The campaign
The new digital-first campaign, 'It's In You', continues on David Jones' strategy to reinvigorate the brand and attract 18-to-34-year-olds.
Set to the track 'Power' by Kanye West, the film features Adam Goodes alongside other Australian personalities from a range of backgrounds:
David Jones ambassador, Jessica Gomes,

You Am I frontman, Tim Rogers,

Sydney Dance Company dancer, Juliette Barton,

champion high jumper and model, Amy Pejkovic,

model Tahnee Atkinson, and

actor Alex Russell.
David Jones CMO David Robinson said the campaign aims to be "edgy and dynamic" and to "push the boundaries" of the 177-year-old brand, in response to customer demand. It will be backed by an in-store investment to help customers and staff feel empowered, he said.
"Our customers told us that clothing or make up can empower them to face their challenges head on, and enable them to be whoever they need to be at any given time. We think this speaks to a powerful truth – that clothing and make up may be the inspiration but the real power is in you."