Digital outdoor in action: inside three campaigns
The growth of available technology in digital outdoor advertising has allowed brands to get their message across in more creative and relevant methods than ever. Here are some examples of innovative ways companies have utilised digital outdoor.
Coke Zero's 'Drinkable Advertising'
In a campaign developed for the NCAA Men's Basketball Final Four weekend in Indianapolis, Coke Zero aimed to creatively engage spectators and encourage them to try the beverage. In partnership with Ogilvy & Mather New York and Shazam, IMG LIVE and Specialised Mobile Exhibits, they created a campaign that people could literally drink.
The 'Drinkable Advertising' campaign aimed to serve as an innovative way to make it as easy as possible to enjoy Coke Zero.
The most literal manifestation of the first-of-its-kind campaign, was a 10.4 tonne, 8×11 metre drinkable billboard which carried Coke Zero from a massive contour bottle, through straw tubing that spelled 'taste it' before the liquid to a free sampling station on the ground.
During the TV broadcast of the semi finals and grand final game, viewers could watch Coke Zero as it was poured from a bottle, and when prompted by Shazam, could then see a glass be filled up on their mobile device.
A similar commercial aired on stadium HD video boards in Lucas Oil stadium, the venue for the championships, and also included a coupon for a free Coke Zero which was also received on the spectators' mobile devices.
Other creative outdoor at the event enabled fans of opposing teams to race their 'frenemies' by using the microphone in their smartphones as a straw to see who could finish their bottle of Coke Zero from two digital screens the fastest. Winning competitors won free Coke Zeroes for their team's other fans in the audience.
The campaign also included similar virtual drinking experiences at drinkable interactive mall kiosks, drinkable flyers and vending machine mascots – who brought Coke Zero to customers, rather than the other way around.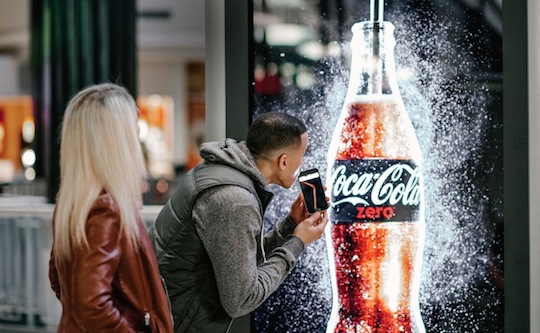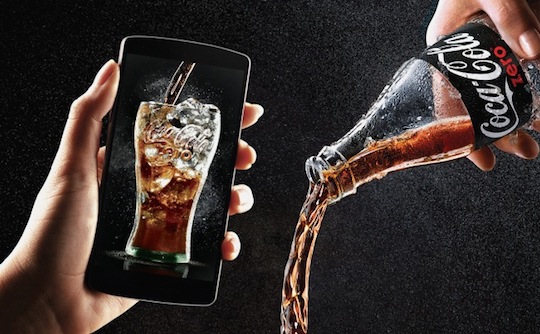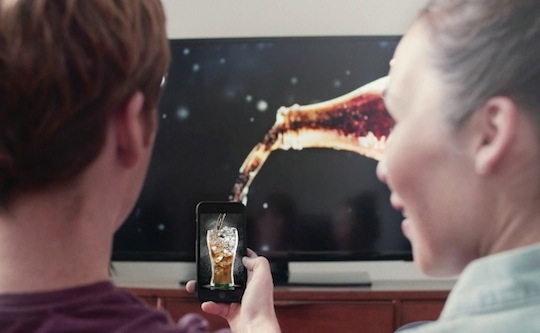 National Geograpic Channel and XtrackTV
One of the most preeminent and iconic brands in the world, National Geographic Channel is the only television network aligned with a real scientifi c organisation with a 127-year legacy: the National Geographic Society.
Driven by a passionate belief in the power of science, exploration and storytelling, National Geographic Channel continues to bring back stories about the most thrilling events happening all over the world. National Geographic Channel is the home of smart, relevant and inspiring factual entertainment about life, the universe and everything in between.
Entering into a strategic partnership with APN Outdoor has allowed National Geographic Channel extensive use of leading outdoor formats, including digital and static billboards, transit, rail and even some great assets at the airport. Each of these platforms presents particular strengths for the brand's advertising intentions.
However, it is XtrackTV that has really allowed National Geographic Channel to bring its leading storytelling to life and put its incredibly captivating content in front of a new, extensive and captive audience, as well as being present across an innovative and exciting medium in the Australian market.
"Everything that we do with National Geographic is about big images and big ideas," says Jerry Butterfield, channel manager, National Geographic Channels Australia/New Zealand. "But it's much more than that with campaigns for TV series like Tales By Light," Butterfield says, "which is about how images can drive the story, including both amazing still photography and breathtaking moving images that are filmed in 4K."
Butterfield says the aim is to get across the magnifi cence of the experience. "In this instance XtrackTV really helped us engage with a targeted audience that we couldn't reach with other media and at scale – which ultimately ticks all our boxes," he says. After using XtrackTV for Tales by Light, and quickly realising the value it added to the campaigns, National Geographic Channel has begun using it more frequently as part of its outdoor strategy.
Most recently, XtrackTV has been used within a larger campaign for the National Geographic Channel original series Outback Wrangler to bring the powerful imagery, excitement and energy of the Northern Territory to key rail platforms across Australia's major cities.
Being an early adopter of XtrackTV has allowed the brand to try different approaches with the platform and use its abundance of great content to really engage the commuter audience. XtrackTV's unique ability to reach this captive audience in high dwell moments, compounded by compelling, creative and eye-catching storytelling has made for a great combination time and time again.
Since first using the platform in 2014, National Geographic Channel has seen the value in XtrackTV in connecting with large audiences in targeted environments. It has proven to be a valuable marketing touch point for the channel. Campaigns include the ground-breaking series Cosmos: A Spacetime Odyssey, giving commuters a rare insight into the eyes of some of Australia's and the world's best photographic storytellers with Tales By Light in May 2015 and bringing the territory to the city with Outback Wrangler in November 2015.
Looking forward, XtrackTV's extension across the country into more capital cities will allow the brand to engage with a national audience.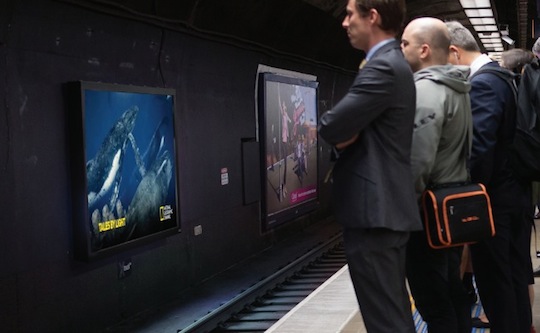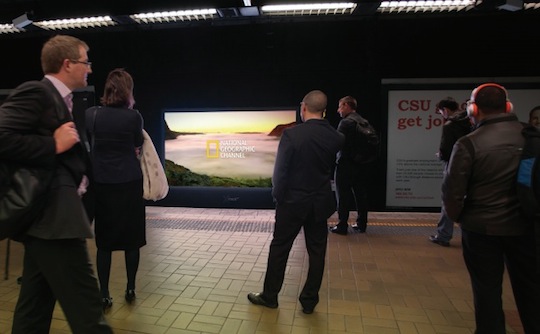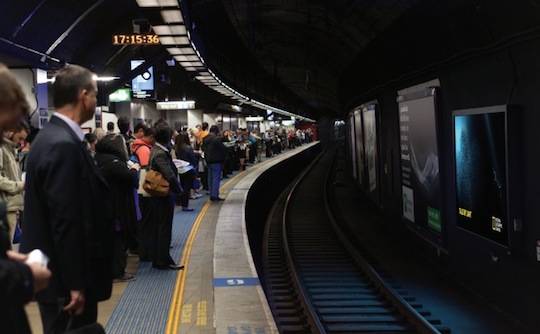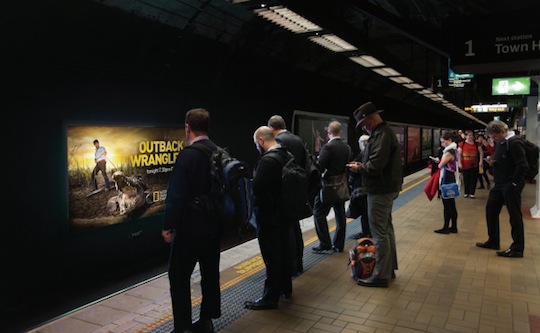 Hotel Quickly and APN Outdoor's Airport Network
Last minute hotel booking app Hotel Quickly built its 80,000 strong database of users through social media and digital marketing.
Waterfront, Hotel Quickly's integrated communications agency was tasked with building brand awareness and interest and driving downloads of the app.
In a campaign designed to test the strength and effectiveness of outdoor advertising, Hotel Quickly partnered with APN outdoor for the brand's first above-the-line communications in Australia and New Zealand.
The 'unmanaged business traveller' – travellers without PAs or travel agents looking for affordable, flexible travel options – was identified as a primary target audience, the secondary being the 'suburban city goers' – those likely to be more adventurous types on nights out in the city, looking to avoid expensive or time-consuming taxi or public transport trips home late at night.
Travelling couples were also identified as key targets.
Research supported the choice of airport environments as relevant precincts in which to communicate with these small and medium sized enterprise (SME) travellers, with 64% of business travellers being managers and/or professionals.
APN outdoor's airports provide access to a broad array of occupations, and in terms of the leisure traveller, research supports the audience Hotel Quickly is looking to reach, with 32% of leisure travellers couples, skewing towards 18-34 year olds and 49% dual income.
Using selected digital sites, the brand and campaign delivered brand and retail messages such as:
'Hotel rooms without delays' appearing on flight information boards,

'Bag a room before your luggage arrives' appearing at baggage collection,

'We help business travellers sleep easier at night' appearing at club lounge entry points,

'Is your hotel booking up in the air?' Appearing at gate lounges, and

'Grab a hotel before you grab a taxi' appearing at airport departure points.
Early results of the campaign's success saw a rise in downloads from the Perth market, potentially as a result of many West Coast Eagles fans travelling to Melbourne for the AFL Grand Final.