The Digital Outdoor Issue: a special edition of Marketing Mag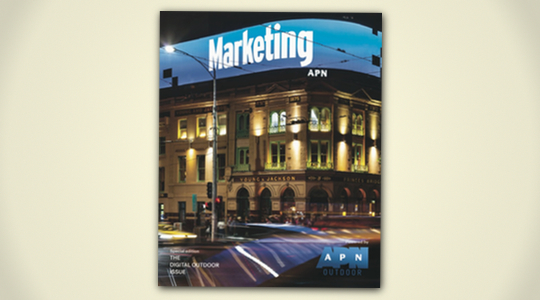 The December-January 2016 issue of Marketing is a special collaboration with APN Outdoor that sees the magazine focus on digital outdoor advertising, examining the growth and innovation of this medium through thought-provoking feature articles, insightful interviews and inspirational examples.
What's in The Digital Outdoor Issue:
Feature: Outdoor's digital transformation
Feature: Mobile and outdoor: a match made in heaven
Brand: McDonald's modern marketing menu
Feature: The world's largest art exhibition
Profile: John Moore, Bupa
Brain Trust: The experts' advice for digital outdoor creative
Interviews: Hugh Forrest, SXSW Interactive; Martin Salter, Sydney Airport
Outdoor in action: Coke Zero's drinkable advertising; Hotel Quickly's contextual airport campaign; National Geographic Channel's content-rich XTrackTV campaigns
Showcase: the best of international outdoor creativity and Australia's digital format
Opinion: How a digital site comes to life; Luxury brands in the outdoors; Semiotics and ethnography behind the #myrealworld campaign; a word from the outgoing director of the Sydney Festival in the event's 40th year; and, insights into the New Zealand market.
Not a subscriber?
Give our friendly subscriptions department a call to subscribe (freecall in Australia 1800 804 160) and ask them  if there are any copies of The Digital Outdoor Issue left. Otherwise, you can always get the digital version from Zinio, Apple's iTunes Store or Google Play.