Digital transformation tales from Pit Lane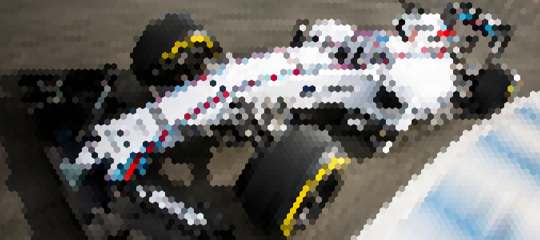 Real-time data, cloud computing, user experience, digital transformation, even wearables and 3D printing… they're all in a day's work for the IT director of a Formula One team. Graeme Hackland of Williams Martini Racing, and Stella Goulet, CMO of the team's partner Avanade, talk to Marketing about the real fuel behind the fastest racing cars on Earth. 
Three server racks, each the size of a dishwasher, sounds like a relatively small IT operation, but when they're part of a high-performance office that must be packed up and moved across the globe 20 times a year, reducing that number through cloud technology can offer significant savings in set-up time and freight costs.
Offices don't get much more high-performance than in Formula One – dozens of screens and kilometres of cable hidden behind the scenes in the garages at Albert Park, or Monaco, or Dubai, right next to the tyre storage and just a few feet from the competitor team next door.
In the Williams Martini Racing garage, a digital transformation is underway. It's occurring in small but steady steps – akin to the gradual millisecond improvements made to the car chassis that can mean the difference between glory and heartbreak.
Williams has partnered with Avanade, the Microsoft-focused IT consulting services company that was formed as a joint venture between Microsoft and Accenture in 2000, to transform how data is collected, processed and consumed in the business. 
Stella Goulet, CMO of Avanade, says it's an "interesting" relationship – Avanade is a sponsor of the team as well as being a technology partner. "We have to make each other happy. We have to come up with win-win situations. We're each invested in one another's success. 
"I'm the client executive as well as the executive sponsor for all of this, and as with other clients we sit down and ask, 'What are you trying to achieve in your digital transformation?'"
For Williams Martini Racing, that means a digital and cloud-first approach using a mixture of onshore and offshore services to get more flexible delivery models.
"Today's clients can't wait for a year or two to see some return on their investment," says Goulet. "Agile development and having some early quick wins are important."
For Williams, when the partnership with Avanade began just a couple of months ago, that has a new website and a new tyre-optimisation system.
One of the next things on the to-do list is reducing those three washing machines to one, as part of a gradual test-and-learn approach to see how much local hardware can be replaced by cloud systems without compromising performance.
The IT vision
The vision is three consolidated and interconnected 'warehouses'. One for product lifecycle management of the car designs; one for enterprise resource management (ERP); and, one for the race engineering environment, to track how the cars are performing based on dozens of data sources coming from parts of the car and garage.
"If you look across the life cycle of an F1 car, we're trying to create three main data warehouses," says Williams Martini Racing IT director Graeme Hackland. 
"There's the CAD PLM. Then we're going to put Microsoft Dynamics in as our ERP system – that will handle a lot of the financial and manufacturing-type information, and capacity planning that will really help us automate when things move from design to manufacturing. Then there's the whole race engineering environment."
Like many companies, some data management is still very manual, ending up in spreadsheets after being collected on paper and manually entered, making it very difficult to track how efforts in one part of the business have outcomes in others, let alone automatically.
"We want that end-to-end visibility when, for example, the aerodynamics [team] has said something is going to add 0.2 of a second per lap to the car, how much do they cost to make, and what's the real race data that's come off that part? Did it match what they said? Was it too expensive for what value it actually gave you? And then [we want to] use that data in the future to make decisions about what aero should be spending its time on, or design should be spending their time on."
The focus now is on the usability of the data systems, and Hackland places significant importance on the user experience for employees, whether they're at the track or in the factory back in England. As the consumerisation of IT creates challenges for businesses of all types, it doesn't just work from the outside in, says Goulet. "Employees want to have the same ease of access to information, the same pleasurable experience in using tools they use as consumers. That's putting a lot of pressure on IT and is a big challenge for businesses," she says.
"What we're going to focus on is the usability piece," says Hackland. "If somebody's sitting at a computer, [it's important to] have applications that are easy for them to use that pull the data from various sources for them so that they don't have to manually manipulate the data.
Workflow at Williams can not only help people to be more efficient, but can contribute towards the performance of the team as a whole. Currently, much is being done by bits of paper.
"We really want to automate that," says Hackland. "We see SharePoint as being our focus for a lot of that business workflow, and document management and document handling."
Podium presentation
There's also how Williams presents itself digitally, either for our staff, for our fans, for the press, and for our partners. The new website is one of those ways, social is another, and data may be another still.
"I always talk about the engineers needing the right data at the right time, but we also want our fans, our sponsors and the media to have the information in the right format.
"We see social as those four key areas for us. How do we get the right information to those people at the right time?"
One area in sport that illustrates the convergence of marketing and IT is the sharing of data with fans. The Australian Open is one example where performance data has been used extensively as a fan engagement tool. Hackland says that's something Formula One should try to emulate to better engage fans. 
On the flip-side, there's a technology that Formula One has been using for more than a decade that's just recently exploded into the public consciousness: 3D printing.
"Since I came into F1 we've been printing wind-tunnel models with 3D printers," says Hackland. "We're now starting to see it appearing in people's houses."
Formula One, along with the aerospace industry, has been maturing 3D-printing technology to the point where Williams is now able to run 3D-printed parts on its cars. Previously the parts would have been made out of carbon fibre and taken three days to ship from the UK to wherever the team happened to be.
"That allows your creative people to take even longer: the designers could be designing up until today, we print something tonight and run it on the car tomorrow.
For some parts, such as those made from metals, 3D printing is not yet a viable option, but as material quality increases and prices fall, Hackland sees the technology becoming a much more commonplace part of a Formula One garage.
Another consumer tech buzz-topic, wearables, could also have a place in a Formula One team, to track the human performance side of the sport. "Not this fitness stuff that everyone's talking about," says Hackland, "But where it's in your clothing, a simple example of that is the pit stop crew. We're currently 2.5 to 2.7 seconds on average at pit stops. If we're going to get them to two seconds, on average, it's going to take something special to get the guys to be able to react that quickly, so we want to look at wearables. We have cameras on the pit stop crew at the moment and that helps to guide them in terms of what they should be doing in positioning. If we could really get that wearables piece right, it would help."