Peer-to-peer car rental company DriveMyCar rebrands for growth
Australia's first online peer-to-peer car rental service DriveMyCar Rentals is pushing for growth by launching a new, slick website and rebranding to DriveMyCar.
Initially launched in 2010, DriveMyCar poses a threat to traditional car rental services by taking advantage of the 'sharing economy' trend, as a vehicle sharing service of a similar peer-to-peer setup as accommodation network Airbnb.
Through DriveMyCar, individuals and companies can rent out their own cars for anywhere between seven and 365 days, while renters can benefit from cheaper fees at an average of $37 per day.
The company claims DriveMyCar rental prices can be up to 62% cheaper than traditional car rental because it doesn't have a car fleet of its own. Cars on offer range from Hyundai Elantras to Mercedes C200s and BMW Z4s.
Its new website highlights these cheaper prices with its simple interface: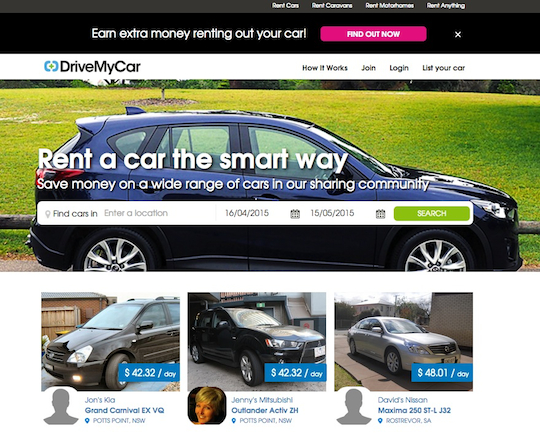 For the sake of comparison, here is a screenshot from the old DriveMyCar Rentals site last month: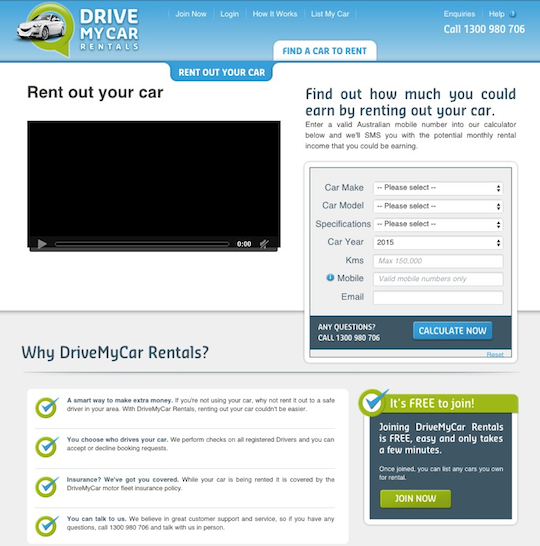 DriveMyCar has built itself over the past five years to reach these approximate statistics:
4000 rentals,
300 cars available, and
11,000 renters using the platform.
Car owners have made more than $4.3 million renting their cars through DriveMyCar, the company says.
DriveMyCar addresses risk by covering car owners with thorough identity and credit checks for renters and up to $30 million insurance, covering third-party property damage, while the renter pays all insurance costs (owners pay no extra insurance premiums while their cars are being rented).
The company says it aims to take advantage of the fact that many households own more cars than they use regularly (35% of all Sydney households have two cars), allowing them to offset some or all of the fixed costs of car ownership.
"We've seen the sharing economy really begin to thrive in recent years, with services that allow people to rent out their homes, their driveways, their tools or their time and skills," says Chris Noone, CEO of DriveMyCar.
"DriveMyCar is the sharing marketplace for the thousands of second or third cars that sit in driveways for weeks or months at a time. We have owners who go on long-term travels and choose to rent their cars through us instead of selling them, giving them an income to help fund their travel and save the hassle of buying car when they return."
DriveMyCar was acquired by the publicly-listed Collaborate Corporation Limited (formerly Qanda Technology) last February. The company owns a number of online peer-to-peer marketplaces including Caramavan, a caravan rental network; Rentoid, which allows users to rent 'almost anything' (household and commercial items); and Marketboomer, a B2B platform aimed at improving efficiencies in procurement.