End of an era, start of a new one – how print media will evolve in 2013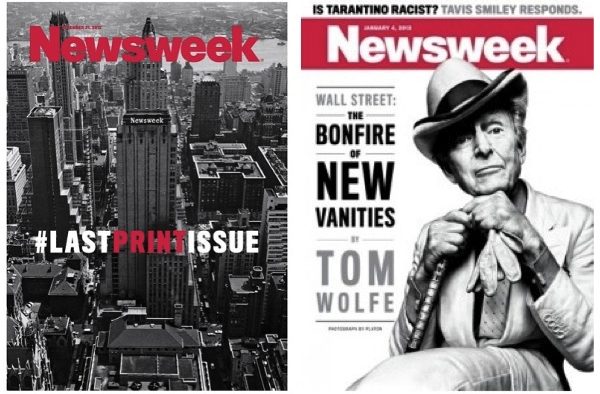 Newsweek, the venerable US current affairs magazine, published its last print edition dated 31 December 2012, after almost 80 years on the newsstand.
A black and white shot of Newsweek's Manhattan office building adorned the cover of the last print edition, with the Twitter hashtag #lastprintissue emblazoned across the front (below left). It was a fitting farewell. The magazine is transitioning to an online-only format driven, of course, by shrinking advertising revenues, and an audience that has shifted online.
Newsweek isn't the first and certainly won't be the last high-profile magazine to abandon print media. As to which printed editions (both newspapers and magazines) will survive and prosper in the digital age, and which will be abandoned in favour of the online-only route is an interesting question. Retention of advertising revenues, audience demographics, and the considered value or exclusivity of the content are critical factors that will drive the decision to continue to chop down trees,
put ink on paper and truck them to your home or newsagent.
The move to a digital-only edition will enable Newsweek to cut printing and distribution costs, though by the look of its first online-only issue, the publishers won't be skimping on the production value of its front covers. In Newsweek's first digital-only edition (above right), the cover features a stunning portrait of author Tom Wolfe, expertly shot by elite portrait and magazine photographer Platon. Indeed it's vital for Newsweek to have a point of difference if it's going to successfully compete for subscription dollars against other current affairs sites that are providing their content predominantly free of charge.
It's not the death of print
Of course, some publishing houses will continue to support their printed publication as something of a loss leader. They'll use the printed masthead to anchor the content and as a place to run exquisitely-produced display advertisements, but it won't be a profit driver – far from it.
How long Australia's embattled print media remains in a physical format without its classified rivers of gold is of course a moot question. Though when I used Google to research this piece, my search query on the longevity of Australian print media returned a listing for White Lady Funerals on the first page!
When you look at magazines like Women's Weekly, I think it stands every chance of surviving in a physical format. Its readers can easily break down the cover price and attribute value to the content. Celebrity news, fashion, recipes, decorator and styling tips, craft ideas, health advice and tips all adds up to a whole lot of value that while they could probably find in a multiple of sites online, the magazine content is tried and tested, trusted, and is presented to them in a format that its readers enjoy. The magazine will continue to appeal to its target audience which means advertisers will hang around. At the same time, Dolly offers teenage girls access to safe content on fashion, make up, hair and beauty, boyfriends and relationships, in a format that is agreeable to their parents who are happy for them to spend their pocket money on it or even purchase a copy for them.
Print needs a good reason
On the other hand, when young twenty-something readers gauge the cover price of Cleo and Cosmopolitan over getting that sort of content free online, it's a far more difficult proposition to support the physical magazines. Just what do these titles offer to their readers that they can't get anywhere else?
The same can be said for our daily newspapers. Just how long will it be viable for News Limited and Fairfax to publish weekday editions of these papers when all the content is available online and everyone seems to be happier using their smartphones or tablet devices to view and catch up on the latest news. Already the nation's daily newspapers are provided free of charge to members of gyms, visitors to zoos and major tourist attractions, as well as ticketholders at sports stadiums and arts venues. News Limited's paywalls have yet to succeed because news content is available elsewhere. If you're not going to pay for the printed editions, then how likely is it that you'll pay for the online version?
Mass audiences of old have fragmented into multiple micro audiences. Along with the demise of classified revenue, established media companies are also confronting the erosion of print display and broadcast volumes. There are big opportunities to increase ad revenue from utilising programmatic premium trading platforms which empower publishers to sell premium inventory on a programmatic basis. This provides the opportunity to build a stronger direct sales channel and drive revenues, keeping control over the advertisers and ads that appear on site while providing advertisers with complete transparency so they can see exactly what they have paid for.
But established media companies are running out of time to reinvent and transform their existing business models to take advantage of the new opportunities in the marketplace. It's not simply a matter of cutting costs and maintaining business. It requires total transformation.
In 2013 we'll see the reinvention of many more media companies. August printed publications will become online-only ones, fortified with robust internet-age business models. Just like Encyclopaedia Britannica, which made its online-only move last year, many more companies will announce the end of the production of print editions in favour of strictly online versions. It's the start of a new era.