Exclusive: Anthony Koutoufides talks about viral Souvlaki Hut video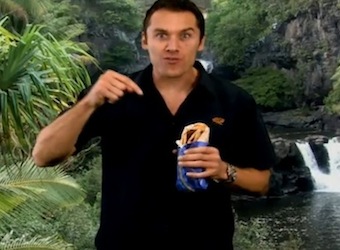 A 2009 advertisement for Souvlaki Hut starring AFL and Carlton Football Club legend Anthony Koutoufides has gone viral after it appeared on US website College Humor and was then picked up by pop culture news site The Huffington Post. The commercial has caused a stir thanks to its poor production values and its use of low budget special effects gorilla. It has now been viewed more than 1.3 million times.
Koutoufides was unaware that the video had gone viral when contacted by Marketing today, but spoke to us about the making of the now famous commercial: "I was the face of the brand, so I had to be in the commercials, the first commercial we did went really well… obviously they cut the budget," he says.
"I had no idea what I was doing when I rocked up. They just told me where to stand and what to do. It only took a few hours."
The commercial was only ever destined for the internet, with bosses deciding against putting it on television. It was filmed entirely in front of a green screen and the concept was thought up by the then owners of Souvlaki Hut.
The commercial was awarded a Brown Logie for 'worst ever commercial' and has won a similar award in Greece.
Kouta also shared with Marketing his biggest regret about the ad.
"I never got to meet the gorilla."
Koutoufides is taking his new-found viral internet fame in his stride, saying, "It's all just a bit of fun."
And… if you like Kouta's performance, you'll love Marketing's Top10 list of ads that make absolutely no sense, right here »