Fairfax digital sales stall, but outstrip News' first audited pay wall figures
Sales of digital newspaper subscriptions have stalled for Fairfax papers the Sydney Morning Herald (SMH) and The Age, but the troubled publisher outperformed rival News Ltd for digital sales in the first release of figures from behind The Australian's pay walls.
Digital subscriptions plateaued for Fairfax during the Audit Bureau of Circulations (ABC) July to September quarter, particularly for the SMH which grew its weekday digital subscriptions by only around 4000 during the quarter compared to a 16,000-odd jump during the previous quarter.
Subscriptions to the digital edition of the Sydney-based paper numbered 56,599 during the week and 56,113* on Saturdays over the current period, well above The Australian which sold 31,241 passes to its pay-walled premium content during the week and 31,381 on the weekends.
The Age fared better, growing its digital subscribers by around 8000 to 31,502 during the week and by around 6000 to 31,894 on Saturdays, but also fell well below the growth it achieved in the previous quarter.
Print circulation for these three leading titles – of which only The Australian will remain in broadsheet format once Fairfax moves to tabloid – continued to suffer the greatest declines, dropping by 12.2% to 13.1% year on year during for the quarter. The print decline was again more marked for the SMH and The Age than for The Australian.
Despite their continual decline, CEO of The Newspaper Works, Tony Hale says printed newspapers have a solid future ahead, with around 18 million copies still sold every week. Overall sales of Monday to Saturday national, metro and regional print newspapers declined by 5.9% in the July to September quarter, a figure consistent with the previous period.
Pointing to the multi-screen approach being adopted by publishers, Hale calls the current figures "the tip of the iceberg as the whole industry begins to report total sales across all publishing platforms".
Roy Morgan Research supplements the ABC's circulation data with readership data that produces a combined digital-print unique audience measure. In the second release of these figures, the SMH again topped the charts, attracting an average of 3.2 million readers per week over the quarter, ahead of the Herald Sun on 2.9 million, the Daily Telegraph on 2.5 million and The Age on 2.4 million. The Australian attracted a total combined audience of 1.8 million.
Combined net print-digital readership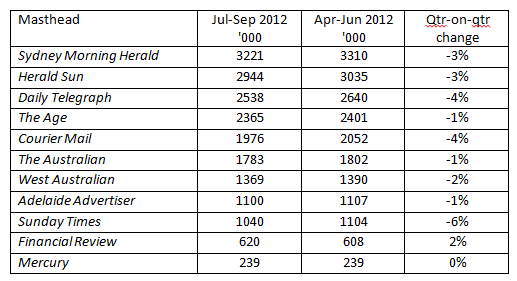 In response to Roy Morgan's findings, CEO of News Ltd, Kim Williams, took a swipe at the researcher's methodology and reiterated that an alternative measure will be launched by The Readership Works, which will sit alongside The Newspaper Works from the first half of next year.
"Roy Morgan's readership data released [yesterday] is out of kilter with the ABC circulation data," Williams says. "The discrepancies between circulation and readership illustrate the problems in the Morgan methodology."
Quoting a 16% increase in digital subscriptions to The Australian since March, Williams says, "The growth in digital subscriptions and strong audiences for our digital sites is encouraging as we continue to transform our business in serving consumers and advertisers across a rich range of technologies – print, online, mobile, tablet and broadcast."
Hale agrees, citing a combined average daily sales of digital editions of The Australian, the SMH, and The Age of 120,000 during the quarter, as proof that people in Australia will pay for quality journalism in both print and digital formats.
Circulation data from the ABC and readership data from Roy Morgan is shown for each of the major mastheads below.
National
Circulation of national newspapers dropped by 5.3% overall year on year.
The Australian lost 4.6% to 5.6% across the week in circulation. In terms of readership, it fell 1.2% on Monday to Fridays, but rose by 0.2% for the weekend edition. Across Monday to Friday, the masthead sold 31,241 digital subscriptions (16% growth since March according to unaudited figures from News) to bring total sales to 154,697. On the weekend, digital subscriptions totalled 31,381 bringing total sales to 299,106.
The Australian Financial Review arrested its decline relative to previous quarters, down by 3.9% to 6.5% for circulation and 8.4% to 8.8% in readership. Paid subscription figures for the AFR were not made available by Fairfax.
Metropolitan
Circulation of metropolitan newspapers dropped by 5.4% to 7.5% year on year across the week.
New South Wales
The SMH shed 15.1% to 15.9% across the week in circulation, and lost 9.3% to 14.0% in readership. For its digital editions, the masthead took in 56,599 (up slightly from 52,663 in April to June and 36,816 in January to March) in paid sales on Monday to Friday, resulting in a combined digital and print sales figure of 187,260 (down from 192,740 in Apr-Jun and from 198,335 in Jan-Mar). Saturday's combined figure totalled 283,062 (down from 308,249 in Apr-Jun and from 310,410 in Jan-Mar) readers, with 56,113 (up from 56,058 in Apr-Jun and 40,158 in Jan-Mar) paying for digital editions.
The Sun-Herald shed 21.3% of circulation and 13.2% of readers. Paid digital editions were sold to 56,115 (up from 52,340 in Apr-Jun and from 40,268 in Jan-Mar) to give the masthead a combined paid circulation of 342,325 (down from 363,339 in Apr-Jun and from 402,350 in Jan-Mar).
The Daily Telegraph was down by 1.8% across Monday to Friday editions and up 0.1% on Saturdays in circulation, but fell 11.0% to 13.2% in readership. Sunday's Telegraph was down by 1.0% in circulation and fell 10.5% in readership. News is yet to put pay walls around its Telegraph sites.
Victoria
The Age fell 15.1% to 16.9% across the week in circulation, and declined by 12.1% to 13.3% in readership. Digital sales of 31,502 (up from 23,811 in Apr-Jun and from 9,311 in Jan-Mar) on Monday to Friday took the overall masthead paid circulation to 173,405 (down from 180,833 in Apr-Jun to fall back in line with 170,005 in Jan-Mar), while on Saturdays 31,894 (up from 25,060 in Apr-Jun and from 9,369 in Jan-Mar) bought digital editions, taking Saturday combined masthead sales to 233,670 (down from 246,161 in Apr-Jun and from 245,597 in Jan-Mar).
The Sunday Age dropped 15.4% in circulation and 11.6% in readership, while the digital edition sold 31,941 units (up from 24,782 in Apr-Jun and from 9,376 in Jan-Mar) to take total masthead sales to 201,652 (up from 200,950 in Apr-Jun but still down on 210,650 in Jan-Mar).
The Herald Sun lost 3.5% to 4.4% in circulation across the week, and 11.0% to 14.0% in readership. On Sunday, the Victorian paper dropped 5.7% of its circulation and 14.9% of its readership. A pay wall was erected around premium content in March, but News has not made figures available.
Queensland
The Courier-Mail experienced greater declines on Saturday (-6.1% circulation) than Monday to Friday (-2.1% circulation), and The Sunday Mail dropped 5.4% in circulation.
South Australia
The Advertiser's circulation was down 3.1% Monday to Friday and between 5.7% and 5.8% for its Saturday and Sunday editions
Western Australia
The West Australian was down 0.8% on average across Monday to Saturday, while its Sunday edition, The Sunday Times, dipped 4.3%.
ACT
The Canberra Times lost 8.0% on average across Monday to Saturday, while its Sunday edition shed 8.0% of its circulation
Tasmania
The Mercury was down 2.6% on average across Monday to Saturday, while its Sunday edition, the Sunday Tasmanian, dropped 6.1% of circulation.
Northern Territory
Northern Territory News shed 6.7% in circulation across Monday to Saturday, while its Sunday edition, the Sunday Territorian, lost 3.5%.
*The audited numbers are a daily average across July-September.