Feature: how Vinomofo got its mojo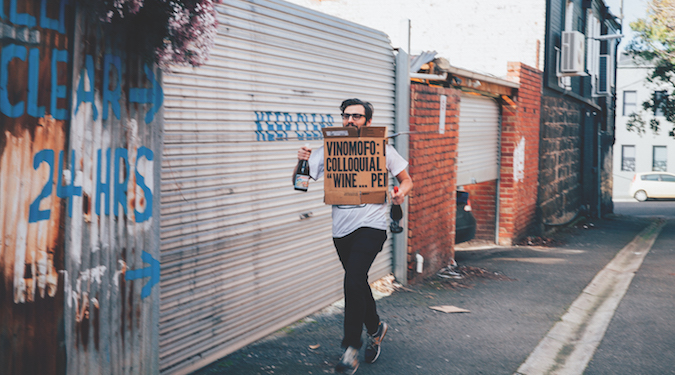 Last year Vinomofo hit half a million members and launched its first ever mass-market advertising campaign. Marketing explores how it got here after only five short years.

This article originally featured in The Versus Issue, our February/March issue of Marketing magazine.
Vinomofo is a business not afraid to be itself. The self-proclaimed 'most epic wine site on the planet' has developed a brand with loads of personality and a tribe of loyal members. The Australian-founded online retailer has grown rapidly since launching in 2011, currently reaching $50 million in annual revenue. Now, with the help of venture capital backing, its eyes are set on world domination.
Vinomofo started life in an Adelaide garage in 2011. Its founders, brothers-in-law Justin Dry and André Eikmeier, had previously created a social network for wine nerds. However, without a solid revenue model, it was not sustainable.
So the pair pivoted to wine deals, working directly with wine producers and promising to source only wines they would love to drink themselves (they say more than 95% of the wines its buyers taste are rejected) and curate them to the taste of its members.  
They were onto a winner; Vinomofo now boasts half a million members and has been recognised in a number of award programs, including Telstra Business Awards, Best Places to Work, Online Retail Industry Awards, My Business Awards and Smart Company's StartupSmart Awards.
Like traditional wine clubs, each customer must register as a member to be able to purchase wine, and you get a personal wine broker you can call who learns your tastes. What really separates Vinomofo from other wine clubs is its personality. It was founded on the belief that wine should be free of snobbery – 'not about bowties and bullshit'.

The company expresses its devil-may-care attitude at every opportunity. In its name, for example. And that it calls its members and fans 'mofos' – in a most endearing sense of the word, of course. But it could have been quite different if not for an early legal hiccup.
The brand's name was originally meant to be Vinomojo, the idea being it would help a new generation of wine drinkers find their wine mojo. A little edgy, but not in comparison to what would come. Vinomojo, however, was taken. The rights to the name were owned by a much bigger company, which threatened the start-up with legal action.
Given investments had already been made in branding and marketing, Dry and Eikmeier opted to make a slight tweak rather than a complete change of name. They anticipated changing it back once the legalities had been sorted out but, by then, the replacement name – suggested as a bit of a giggle – had taken off and Vinomofo wasn't going to be stopped. The risky name had become a beacon to the new generation of wine drinker, drawn to the refreshing honesty and lack of pretension.

Vinomofo's head of marketing, Kip McMillan, has seen the brand evolve in many ways during the three years he has been with the company, to the point where, now, the brand has gone 'above the line' for the first time, investing in a big-budget television advertisement. It's come a long way.
"When I started there was no real marketing department," McMillan tells grow. "Justin Dry, the CEO, was doing all the marketing on his own."
Back in those days the primary types of advertising Vinomofo invested in were online direct response channels, such as Facebook ads and search marketing.
"That's pretty much where 90% of our budget went," McMillan says, but limited use of advertising channels always results in performance plateauing, as further investments see diminishing returns. "From there, I just tried to increase the media mix by adding display advertising, retargeting, programmatic advertising and sponsorships – basically anything I could do to increase the mix and feed different areas of the funnel.
Then came the 'Vinobomb' project – a campaign whereby Vinomofo helped people perform random acts of kindness. Each month the company would take nominations for a person or people doing 'awesome' things in their community. The winners would then have a Vinobomb – a box containing wine and other treats – dropped on them with the help of digital taxi service Uber. The number of nominations of inspiring people and organisations was overwhelming, the company said at the time.
Then, in 2016, Vinomofo launched its biggest, most ambitious campaign yet, releasing an 'epic' short film under the campaign tagline 'Decide'.
On the back of securing $25 million investment from a venture capital firm, Vinomofo spent $4.5 million of it to secure some film industry gurus, shoot a short film in New Zealand and buy media to share it with millions of people.
The film explores how decisions in people's lives define them, telling the story of a man who is inspired by political protest videos online and decides to go and live in the wilderness. The ad's relation to drinking wine is tentative, but it got people talking, and that's the Vinomofo style.
For a brand that had always tracked its digital marketing return on investment closely, television advertising was a whole new beast. "It could be a recipe for success or one almighty mistake!" the company said at the time.
It bought ads on free-to-air and pay TV in Australia and New Zealand, outdoor advertising spaces, cinema advertising, as well as an aggressive campaign to acquire new customers across digital and social platforms.
Why would Vinomofo ramp up marketing so much so quickly?
The injection of funding at a time of ambitious expansion plans meant it was now or never. McMillan laughs as he explains he's been asked that question quite a few times. "We felt that the members we have are so passionate about the brand and tell their friends, but outside that our audience was limited. We wanted extra awareness and more people to know our brand, so we felt like TV would be the best way to get mass market awareness.
"Our digital channels are in fairly good working order. But if we can drive this awareness through TV and outdoor advertising, we can make our digital channels work harder, too."
The next stage of Vinomofo's growth will have a distinctly international palate. The company's approach to overseas expansion is somewhat pragmatic, using pop-up events to test the waters of new markets before deciding whether to set up shop permanently.
New Zealand became the first country to be part of Vinomofo's global expansion plan in mid-2016 after a successful pop-up event.
"We're doing a bit of expansion into different regions around the world," McMillan says. "We've launched in New Zealand permanently and are running a pop-up event in Singapore to test the waters. If that gets traction, we roll out in that market and then we keep going around. We'll do a US event in March 2017 and then expand from there.
"In New Zealand, we're going to have a wine buyer on the ground to run the business there. That's effective because it shows the market that you're serious as well. You're putting people on the ground, which is important for places like those."
It's early days still, but every new market Vinomofo enters adds more winemaking regions to its offering – from California's Napa Valley to New Zealand's Marlborough – creating a loop in which not only is great Australian wine shared with the world, but Australian members benefit from the company's deeper relationships with winemakers in more and more regions around the world.
* * * * *
To purchase a copy of The Versus Issue or a subscription to the mag, visit the shop »
* * * * *