Fin Review to join the app race next week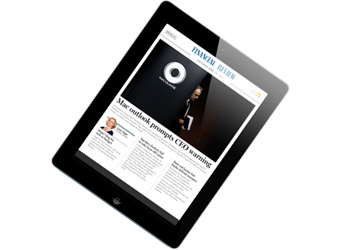 Financial Review Group CEO Brett Clegg today announced The Australian Financial Review app for iPad will launch next week.
The app was built in house by Fairfax, and will be free to download, but content will only be available to existing five and six-day print subscribers and afr.com subscribers.
It will offer content from the newspaper and its inserted magazines, including the AFR Magazine and Boss, as well as breaking news and live market data. It will also include the AFR's weekly sections: 'Marketing and Media', 'Education', 'Portfolio', 'Arts and Saleroom', 'Men's Health', 'Life&Leisure' and 'Review'.
Cisco, Commonwealth Bank, Land Rover, Vacheron-Constantin and Virgin Australia have joined as launch partners for the app. Commonwealth Bank is understood to be developing a game aimed at C-suite investors using RP Data's housing data as part of the partnership
Clegg says, "We know there is significant pent-up demand for a 'lean-back experience' with our content, and customers have been asking every day when our app will be released.
"Our online subscribers have doubled since December to now total close to 17,000. We are seeing significantly more engagement with the Financial Review across all platforms – print, online and mobile."
The AFR has been busy bolstering its offer over the past month, implementing a new pricing structure and a new editorial position based on news breaking, agenda-setting journalism, and now a new way to experience our content through the app.