Facebook IPO priced at $38 a share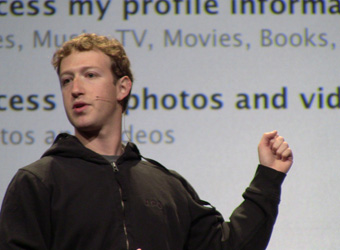 Facebook is set to break the $100 billion mark in its IPO, pricing its shares at $38 a unit.
The pricing gives the social network a valuation of $104 billion, making it the largest public offering from a US company in history and the sixth largest globally. The valuation puts Facebook on par with Amazon and exceeds that of Hewlett-Packard and Dell combined.
On Wednesday, Facebook increased the size of the IPO by almost 25% to 421 million shares, a 15% float, according to Reuters. The company and its founders stand to gain handsomely from the float, with as much as $US18.4 billion ($18.6 billion) likely to be generated.
CEO Mark Zuckerberg, who turned just 28 on Monday, is set to gain the most, but the company's investors also stand to make impressive gains. A venture capitalist who sits on Facebook's board of directors, Peter Thiel, stands to reap around $US640 million from the $US500,000 he invested in the company back in 2004.
Predictions of how the stock will trade on the first day of trade vary with some saying anything short of a 50% jump will disappoint, while others say the size of the float and the fact that there's been a raised price range could reduce first day gains to as little as 10%.