FutureBrand Australia takes home top gong at Rebrand's Best of Award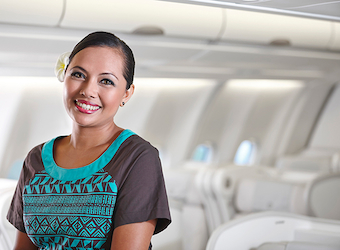 FutureBrand Australia has received top honours at this year's Rebrand's Best of Award, for its work with Fiji Airways, Fiji's National Airline as it rebranded from its former 'Air Pacific' identity.
The award, held by only four other brands globally, was based around the company's return to its 1950s name and featured work from Fijian Masi artist Makereta Matemosi.
Graham Purnell, executive creative director, FutureBrand Australia, said: "We're especially proud that this work is receiving the kind of credit that embodies what the Rebrand Awards stand for. Highlighting the value of intelligent design that has a real and lasting impact on not only the core business but also Fiji and its wonderful people."
Stefan Pichler, managing director and CEO of Fiji Airways, added: "It was clear, beyond representing Fiji on the global stage, that our return to Fiji Airways needed to deliver long-term benefits for the destination, airline and the region, delivering a truly authentic identity, one that showed the depth of culture and natural diversity that Fiji offers. Working with Makereta and FutureBrand Australia ensured we were able to retain the integrity, beauty and meaning of one of Fiji's richest art forms and apply this successfully in a visual identity."
Others winners from the night included rebrand campaigns for Cancer Research UK, Institute for Creative Health, interior design firm, Jason.L and humanitarian organisation,Pact. 
Check out the winning campaigns here »