Garuda times brand push with Liverpool Football Club tour of Asia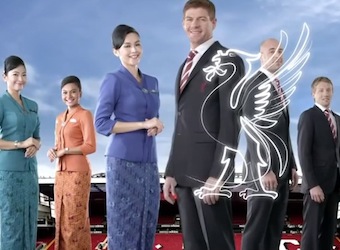 Indonesian airline Garuda Indonesia has launched its latest global brand campaign to coincide with an Asian tour by Liverpool Football Club, of which it is a sponsor.
The campaign features the English football club and complements the launch of a co-branded frequent flyer program and card. Garuda is carrying the Liverpool players and staff for their tour matches in Indonesia, Australia and Thailand, and the sponsorship and related activities are part of the airline's strategy to increase brand awareness in the international market.
The airline's newly-installed executive vice president of marketing and sales, Erik Meijer, addressed attendees in Melbourne last night ahead of Liverpool's match with Melbourne Victory at the MCG on Wednesday evening. Meijer discussed the airline's growth over recent years, mentioning the challenges he faces in restoring trust the brand. Garuda has suffered from a less-than-stellar safety record in recent years, and gained notoriety following the 2007 crash in Yogyakarta which killed 22 people.
Since then the airline has made ground in its customer service delivery, being named the eighth best airline in the world overall and the best economy class in the world in the Skytrax World Airline Awards 2013, which is judged by passengers.
"The partnership with Liverpool FC represents how far Garuda Indonesia has come, and is part of our ongoing transformation into a global player in the airline space. Liverpool FC has a huge international following and it is really rewarding to be working so closely with a brand that has such a passionate fan base," says Meijer.
Garuda's partnership with the club is part of the airline's strategy to increase brand awareness in the international market through marketing communication programs, in particular, through this co-branded, joint channel program between Garuda Indonesia and Liverpool FC.
The brand spot features passengers and cabin crew as well as [spoiler alert] an appearance by Liverpool captain Steven Gerrard.
The TVC will air from Thursday in Australia, Indonesia, South-east Asia and Europe, and will be supported by a joint social media campaign, digital signage within the MCG and promotional footage on screens in the ground during the match. There are also existing co-branded print campaigns in Australia and Indonesia running.