Global IT director of Treasury Wines: tackling digital transformation across multiple brands in multiple regions
Michael Davis, global IT director at Treasury Wines, spoke of the company's efforts around digital transformation on a panel at Salesforce Marketing Cloud's Connect 2014 event in Sydney last week. The panel looked at what organisations can do to 'turn the ship' and approach digital transformation pragmatically. 
Moderating the discussion was Nick Arnold, head of innovation, McKinsey & Company, and former CMO of Apple Asia, who wanted to know how, with the mind-boggling array of connected devices coming, businesses could make sense of it. "We have a connected world with a billion devices, moving to a trillion devices. A trillion connected sensors. The internet of things. Digestible pills collecting data… connected with nano-materials and nano-parts [and] being able to use that data for medicine. RFID tagging, sensors in our road, sensors in our body, sensors everywhere providing data. Data sources are becoming quite unbelievable," Arnold began.
"From a marketing and a business point of view, trying to make sense out of that is quite a challenge."
Roadmaps and models 
Treasury Wines distributes the brands Penfolds (including its luxury Grange line), Wynns Coonawarra, Lindemans, Seppelts, Wolf Blass.
Davis says the difficult thing when you have as many brands and regions of operations as Treasury Wines does, is regional execution driven by a small strategy group. "You need to build an understanding, globally, of what the whole organisation is trying to do," he says. "Build road maps and models that allow you to have a common conversation with anyone, in any region. That's what we're endeavouring to do at Treasury."
With a roadmap comes the models that Treasury Wines produces, says Davis.
"As a CPG [consumer packaged goods] company, traditionally our relationship is with a customer [which is] the business we can sell the product to. We haven't had a relationship with consumers in any great way," Davis says.
"But in a category with thousands and thousands of SKUs, we need to be able to differentiate our product and we need to connect with the consumers and we need to be able to do that on a mass scale.
To design a roadmap, Treasury Wines looked at all of its brands and all of the services that IT might provide around, for example, infrastructure, digital marketing or social media, in order to build models. "We basically went to every brand and said, 'Which of these services do you want our IT organisation to build for you guys to be able to execute your brand plans on?'"
In each region it differed, so Treasury Wines built a roadmap – a series of initiatives that brand or sales teams want to execute.
"We put them into a big road map and then played it back to the organisation and said, 'Do you realise that these are all the digital initiatives that you're trying to do in the organisation with about 30 different agencies?'"
The other thing Davis says they did is base-line all the digital assets across brands and regions. "We realised that if they weren't of any real quality we needed to find a way to spend our money better now that we understood how much we were spending and the results of that spending were getting."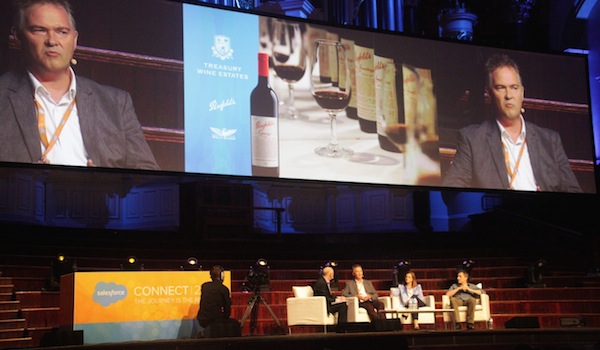 Digital baby steps to 'turn the ship'
According to Arnold, McKinsey's conversations with the leadership of many companies reveals that a vast majority of senior leadership say their business model is under threat. "What's really interesting, when you ask them how many are satisfied with the efforts the company is making to deal with that threat, only about 6% have the strategies to deal with it… the rest are saying they're kind of working on a strategy," said Arnold.
But it's a pressing priority.
So how does a leader approach the task of getting a global organisation to buy into a strategy?
Davis says you can't expect to immediately get everyone lined up, but that baby steps are the answer. Low-hanging fruit and quick wins give proof and confidence to an organisation.
"It's not going to happen [immediately], especially in an organisation like ours where it's a global company," Davis says. "What you need to do is try and test and get some successes and demonstrate those successes.
One example is the 'Re-Corking Clinic' for Penfolds, a program for owners of luxury wines such as Grange. Owners of one of these wines get sent an invitation to attend a session where a winemaker will open the bottle, taste it and tell you whether it's good or bad or whether you should drink it in the next few years. Then they'll fill it back up and re-cork it.
Interestingly, bottles for sale on Ebay now spruik their passing of the clinic to reassure buyers who are spending thousands of dollars per litre.
"It's an absolutely differentiating service we have, and it's one that we're digitising and recreating globally in order to differentiate.
"When you do something like that, you can go and do different things off the back of that in order to differentiate yourself further, driving revenue or reduce costs within the business."
By the way, 'every two years or so' is the answer to the question of how many times customers can get their bottle of Grange topped up.
To take the customer experience anecdotes from the impressive to the extreme, if you bought a bottle of 2004 Block 42 in the special edition ampoule released in 2012, a winemaker will fly to wherever you are in the world to crack the top off the hand-blown glass sculpture with a specially designed, tungsten-tipped, sterling silver scribe-snap. But then again, if you had bought it you would know this already, because it's hard to forget spending $168,000 on a bottle of wine. (Not that we're speaking from experience.)
A single magic metric does exist
On the issue of metrics in digital strategy, Davis says that there actually is one metric that can solve many problems: the metric of money.
"I think that one of thing we realised is that digital [was] struggling to get a toehold in the very fabric of the business and the organisation because there were not conversations around the dollars.
"There were conversations around the metrics that, as digital people, we were used to – you know, GA type metrics and those things, but there wasn't a translation into the more traditional financial paradigms that the gatekeepers that a lot of older and more mature businesses are used to."
That was quite a potent realisation, says Davis. "Until we were able to take the parts of digital and start to translate it, to basically turn it into a spreadsheet for someone, you would really struggle to get even the tiniest wins because you had to show someone in power that this could deliver something financial for the business."