What Matt Damon and Bill and Melinda Gates can teach you about philanthropy and branding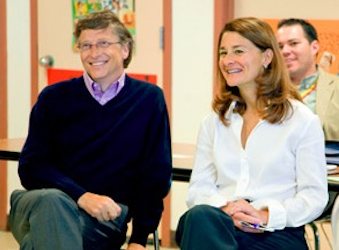 The charity sector is full of players fundraising for countless causes. Caroline Regidor gives some advice on how to align your brand with the right cause in the right way so you can reap the benefits.
When you give to charities, do you want kudos back? While some people are happy to donate anonymously, others build personal or corporate brand value by promoting their generous actions. What can we learn from the world's famous do-gooders?
Too often donations are given impulsively, induced by guilt trips, during a state of euphoric, wallet-opening frenzy at boozy fundraising galas. We've all been there.
Planning, research and strategy will ensure you're not only supporting a fine cause that aligns with your values, you're enhancing your brand in the long-term.
So you want to start a charity?
Follow Bill and Melinda Gates' lead and let the experts do the work. Don't compete.
No matter how niche your idea for a charitable cause may be, chances are someone's already addressing it. Having first mover advantage (or at least early mover) means your would-be rivals are armed with more experience and an established infrastructure that's difficult to replicate.
Once the launch party is over and the first set of aspirational actions from the inaugural board meeting have been minuted, the real hard work begins… work that someone has usually already done at another charity, which raises money for the same people you are.
Philanthropy is an area where competition and fragmentation often lead to duplication of efforts, inefficiency, and less value for the beneficiaries.
Establishing yet another cancer charity can be equivalent to setting yourself up for failure, as competitive forces will put you on the bottom of corporates' workplace giving registers, and your friends' Christmas and end of financial year deductible gift recipient lists. There are hundreds of cancer charities, support groups and advocacy groups. In Australia alone, cancer fundraising and research is worth over $300m.
If it's a legacy you want to leave behind, why would you jump in and start a charity that's not going to last? Instead, consider which established charities you'd like to support and consult them on how you can leverage your generosity through promotional activities.
Ensure the brand alignment is right
An environmental cause is a good fit for an airline conscious about its carbon footprint – case in point, Virgin. Supporting Indigenous arts is a no-brainer for our national carrier Qantas.
Matt Damon, a co-founder of the H2O Africa Foundation, made his ice bucket challenge more meaningful by delivering a message on first vs third world inequities. He scooped up water from several toilets in his New York home and tipped that on his head, making the point that it's no big deal, considering that drinking water in many third world countries is dirtier than water sitting in first world toilet bowls.
Supporting a charity that aligns with your personal or corporate values seems obvious, but it's a point that's often missed because it takes time to conduct research on a charity. Meanwhile, the time investment into a selfie video, or to Facebook like a charity purporting to oust an African dictator, or to simply write a cheque for friends' charities, is relatively minimal.
I've chosen a charity. How do I get kudos?
So how can you get the personal brand recognition you deserve, when you're not filthy rich like the Gateses, and have a foundation named after you that doles out millions to deserving charities carefully selected by a top-notch management team? Or you don't have the celebrity status to have your name emblazoned on pink shirts?
There is a range of marketing solutions for you. Just one way to build your brand is by becoming the naming sponsor of an individual fundraising event. Starting from a few thousand dollars, a business can secure naming rights, attendance by employees and clients and a speaking spot at a charitable event. The event management activities that charities carry out for sponsors and their guests can be well worth the donation.