5 key hurdles on the road to marketing transformation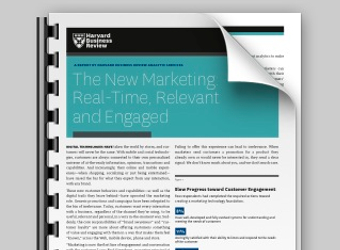 * Sponsored content: This article was created by Marketing in collaboration with SAP, which is providing the paper 'The New Marketing: Real-Time, Relevant and Engaged' as a free download for readers.
—
A report by the Harvard Business Review's Analytic Services has identified five key areas of challenge that organisations must address in order to implement a marketing transformation project.
The Harvard Business Review analytic services, in collaboration with SAP, has produced a report identifying five key areas of challenge in marketing transformation:
Data management,
technology infrastructure,
policy,
measurement, and
cross-functional cooperation.
1. Data management
Data management tasks include data integration, cleansing, standardising, rationalising and modeling.
And new data types are appearing almost daily, only adding to the complexity.
Craig Macdonald, managing director for Accenture Interactive, says companies need to scrutinise their customers' digital footprints: the content they consume, email newsletters they click on, forms they fill out, web searches they conduct, pages they visit, calls they make, events they attend and personal connections they make.
2. Technology infrastructure
In order to facilitate all these activities, infrastructure that allows speed and scale is key. Long load times and latency are an increasingly unacceptable part of a digital customer experience, and hurt engagement. The Harvard Business Review Analytics Services authors point out that in many cases the foundation must scale globally and be able to handle enormous sets of data.
3. Policy
With global data management and technology infrastructure, compliance with regulatory requirements concerning privacy and security, in each market of operation, is a major headache for organisations.
"The European community's regulations can be onerous. And customer expectations may be different there," says David Raab, principal at consultancy Raab Associate. "You have to ensure your offers are correct for whomever you are sending [them] to, and you have to keep detailed records of the offers you make to consumers."
4. Measurement
Proliferation of channels means processes are more complex for measuring the performance of marketing activities.
Organisations, most of which used to be willing to spend on unproven marketing efforts, are finding that's no longer the case, says Macdonald. "Today, there is a direct line of sight from every dollar spent on marketing to its return."
5. Cross-functional cooperation
At the level of complexity touched on above, it's clear why CMOs and most CIOs believe they need to work together to enable the foundation for the future of marketing, writes the report's authors. "It's essential for the two functions to collaborate on strategic marketing technology investments, such as data analytics, integrated marketing platforms and multi-channel delivery systems," the authors write.
FEATURED RESOURCE
This article outlines findings of a paper by Harvard Business Review Analytic Services, sponsored by SAP. The report covers best practices for building the new marketing foundation, the challenges for organisations undertaking marketing transformation projects, and the role of marketers in delivering an engaging customer experience.
Marketing readers, courtesy of SAP, can download a complimentary copy of the report here »