Gumtree, four banks and a telco top most Googled brands
Gumtree, four banks and a telco populated the list of the most 'Googled' brand names, while Coles' 'Down Down Prices are Down' was the most searched for ad of 2012.
Google's Australian brand zeitgeist (German for 'spirit of the times') shows more and more web users researching brands, products and businesses online each year.
Online peer-to-peer marketplace Gumtree emerged as the most searched for brand over the course of the year, while the rest of the top 10 was populated by brands from categories consumers aren't typically passionate about, indicating that information or utility search outweighed entertainment-driven searches when people went looking for brands.
Four banks – Commonwealth in second place, ANZ in third, Westpac in sixth and nab in ninth place – Telstra, who came in fourth, and Seek, who ranked fifth, all took spots in the top 10.
Top searches for Australian brands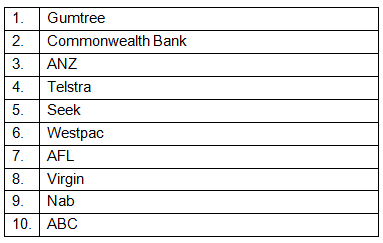 'Coles ad' topped the list of most Googled ads with searches for the term spiking in July shortly after the supermarket unveiled the recent iteration of its 'Down, Down, Prices Are Down' campaign.
Humour and innuendo helped Lynx snag second place as viewers searched for 'Lynx ad' while Australia's mobile fever helped Samsung land bronze for their Galaxy SIII promo spot 'The next big thing is already here'.
Ross McDonald, industry leader, local and retail at Google Australia, points out that Aussies will take to the web to search for ads that move them. "Brands who understand this can extend their reach beyond television by helping their customers create their own commercial breaks: making their TV spots available on sites like YouTube and promoting them to online viewers," McDonald says.
Top searches for ads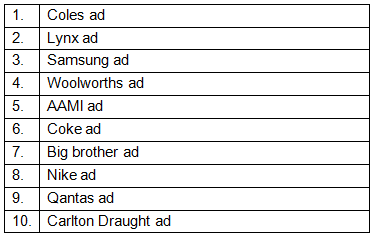 The zeitgeist list speculates 2012 might be the year overseas retailers became mainstream in Australia. While 2011 saw overseas retail brands gain momentum, 2012 was the first year one cracked into the top 10 — British fashion e-commerce giant ASOS, which came in in night place.
However, Australian retail heavyweights, like Woolworths and Coles, continued to dominate the list of most searched for retailers.
Ross McDonald says online and international retailers posted strong gains throughout the year, making it more important than ever for Aussie retailers to embrace the opportunities the web offers to stay competitive.
"We know that Australian shoppers trust their local brands and tend to look for them first — but overseas retailers are catching up. An online and mobile strategy to make themselves readily available should be the number one priority for every retailer in Australia."
Top searches for shopping brands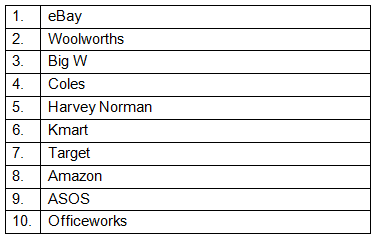 In the overall list of the most searched for entities, Korean pop sensation Psy's hit Gangnam Style came out on top of trending searches – those which had the biggest increase on last year – followed by TV show The Voice, and boy band One Direction.
The London Olympics, which topped Yahoo's list of the most searched, was the fifth highest trending topic on Google.
Top 10 trending searches