One Direction tops 2012 Facebook buzz, Melb beats Sydney for check-in crown
Movies, music and sport were the most discussed topics on Facebook this year, with boy band One Direction topping the list for buzz.
Social TV pushes by the Nine Network appear to have paid off, resulting in Big Brother and The Voice taking the second and third largest share of voice in Facebook's annual 'memeology' list of the most discussed topics.
The London Olympics was the fourth most talked about topic, while the Sydney Swans also made the top ten to elevate sport to a higher standing than it enjoyed in last year's rankings.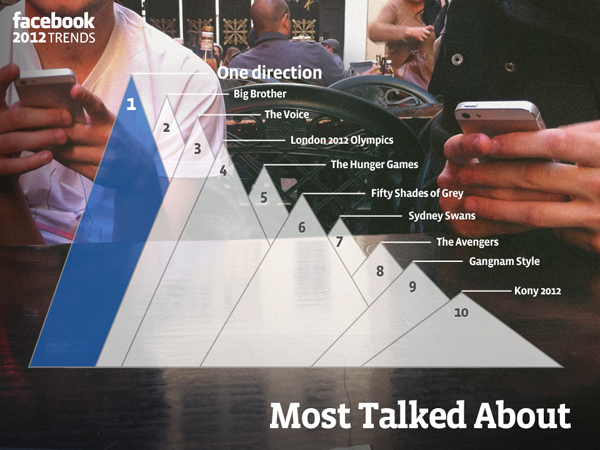 The crown for the most shareable landmark went to Melbourne this year, with the Melbourne Cricket Ground the most checked-in to venue. Sydney's harbour-side tourist destination Darling Harbour followed in second place.
People were most share their location when visiting sports venues, shopping centres, beaches and casinos, according to Facebook. Other landmarks to make the list were Sydney's Bondi Beach and Opera House, Melbourne's Chadstone Shopping Centre and Rod Laver Arena and Brisbane's multi-sport Suncorp Stadium.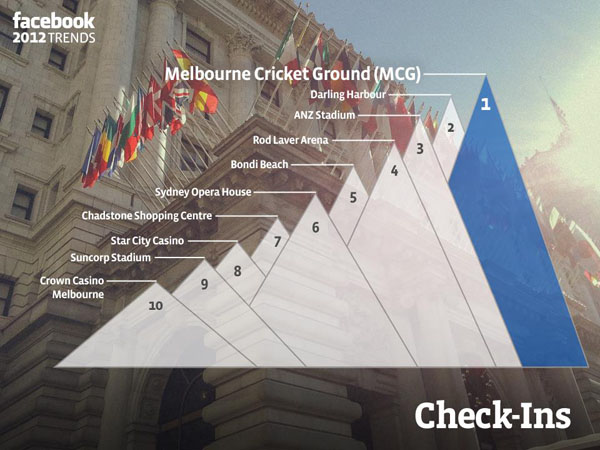 Bon Iver's 'Skinny Love', which was also re-released by Australian singer-songwriter Birdy, was the most spoken about song for the year, beating viral video hit Carly Rae-Jepsen's 'Call Me Maybe'. ARIA winner and Grammy nominee Gotye was the top ranking Australian performer.