Here are the companies winning in customer satisfaction: Roy Morgan Awards for 2013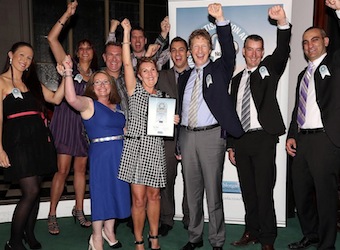 Last night, Roy Morgan Research revealed the winners of its third annual Customer Satisfaction Awards at a gala dinner in Melbourne, recognising the companies that ranked most highly overall in customer satisfaction over the 12 calendar months of 2013.
The research firm's CEO, Michele Levine, presented 39 awards to businesses that topped their respective fields in customer satisfaction, as judged by more than 50,000 consumers and 22,000 business decision-makers throughout 2013.
Some businesses – including Internode, Apple iPhone, Williams, The Good Guys and JB Hi-Fi – confirmed their reputations for outstanding service with their third consecutive win, while others celebrated for the first time. Southern Phone scored its first Home Phone Provider of the Year award, while Foodland trumped previous two-time winner ALDI for the Supermarket of the Year award.
Although Virgin Australia ceded Domestic Airline of the Year to Qantas in a close contest, it emerged victorious as the inaugural Domestic Business Airline of the Year. The other new award, Service Station of the Year, went to 7-Eleven, winning 12 out of the 12 months in 2013.
Scoring similarly emphatic wins, Myer retained the title of Department Store of the Year and Guardian won its second Chemist/Pharmacy of the Year.
There was significant turnover in the banking and finance industry, with CUA nabbed Credit Union of the Year from 2012 winner Police & Nurse Credit Society, Teachers Health Fund won its first Private Health Insurer of the Year award and Greater Building Society lived up to its name, swiping Building Society of the Year from two-time victor Newcastle Permanent.
Business banking was a little more stable, with Bendigo Bank clocking up its third year as Business Bank of the Year and Westpac also scoring a hat trick as Major Business Bank of the Year.
The Annual Customer Satisfaction Awards are based on 12 months of data from Roy Morgan's Consumer Single Source survey, as well as Roy Morgan's Business Single Source survey.
Here's the full list of winners by category:
Customer Satisfaction Awards 2013 – Winners
Car Manufacturer of the Year: Volvo
Bank of the Year: Victoria Teachers Mutual Bank
Building Society of the Year: Greater Building Society
Credit Union of the Year: CUA
General Insurer of the Year: Defence Service Homes Insurance (DVA)
Major Bank of the Year: Commonwealth Bank
Private Health Insurer of the Year: Teachers Health Fund
Risk & Life Insurer of the Year: Real Insurance
Business Bank of the Year: Bendigo Bank
Business Insurer of the Year: Elders
Business Superannuation Manager of the Year: BT
Major Business Bank of the Year: Westpac
Auto Store of the Year: Autobarn
Chemist/Pharmacy of the Year: Guardian
Clothing Store of the Year: Sussan
Coffee Shop of the Year: Michel's Patisserie
Department Store of the Year: Myer
Discount Department Store of the Year: Harris Scarfe
Discount Variety Store of the Year: The Reject Shop
Furniture/Electrical Store of the Year: The Good Guys
Hardware Store of the Year: Home Timber & Hardware
Music/Book Store of the Year: JB Hi-Fi
Service Station of the Year: 7-Eleven
Shoe Store of the Year: Williams
Sports Store of the Year: Rebel Sport
Industry Superannuation Fund of the Year: Catholic Super
Retail Superannuation Fund of the Year: Plum
Supermarket of the Year: Foodland
Handset Provider of the Year: Apple iPhone
Home Internet Service Provider of the Year: Internode
Home Phone Provider of the Year: Southern Phone
Mobile Phone Service of the Year: Amaysim
Domestic Airline of the Year: Qantas
Domestic Business Airline of the Year: Virgin Australia
Hotel and Resort of the Year: Sofitel
International Airline of the Year: Singapore Airlines
Electricity Provider of the Year: Integral Energy
Gas Provider of the Year: ActewAGL
Quick Service Restaurant of the Year: Subway