Out-of-home, out of breath: this billboard coughs when smokers walk by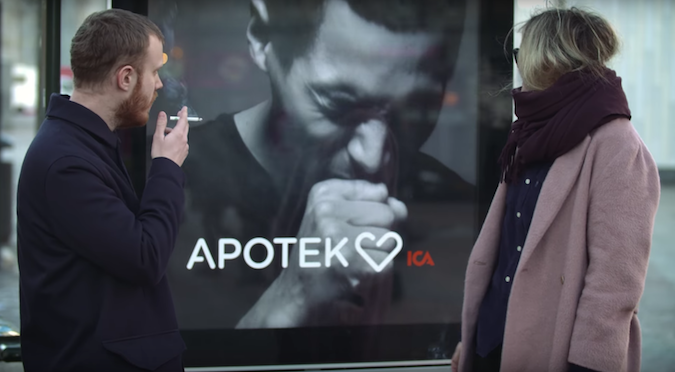 An interactive billboard in Sweden coughs when smokers walk by.
Swedish pharmacy chain Apotek Hjartat has installed a billboard in Stockholm's Odenplan square which coughs as smokers walk by.
The billboard is equipped with smoke detectors at the popular square. The campaign leverages the season – with many smokers considering quitting as a new year's resolution – finally offering ads for various nicotine packs and other quit-smoking products.
The ad agency behind the billboard, Akestam Holst specialises in advertisements that react to their surroundings. In 2014 it produced a billboard on a metro platform for a hair-care brand with sensors so that the model's hair appeared to get blown around whenever a train arrived, Fastcoexist reports.
"The purpose was to drive the conversation about this topic, documenting the reactions, encouraging people to live a healthy lifestyle," Apotek Hjärtat's Fredrik Kullberg told CNN.