How Google's sneaky update could hurt your business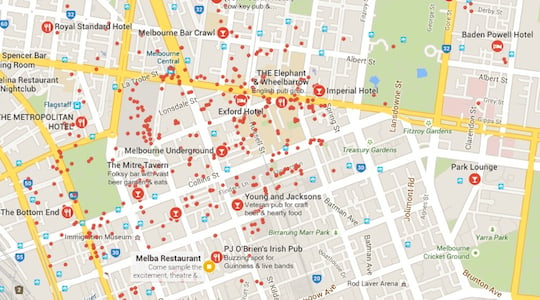 Cade Witnish explains a change to Google Maps search results that has the potential to particularly harm local businesses. This particular change has managed to remain under the radar while discussion centres around Google's recent move to preference mobile-friendly sites.
By now, most businesses will be coming to terms with Google's much heralded algorithm update that will see non mobile-friendly websites penalised in rankings. However, as per usual, it snuck in a few other changes at the same time. In this case, it has made multiple changes to the way Google Maps search results appear.
The change appears to be associated with Google's acquisition of restaurant, bar, hotel and accommodation rating service Zagat. Although Zagat isn't used much in Australia, it's a common feature of search results for restaurant and accommodation terms in Europe and America. Despite Zagat's lack of presence in Australia, Google's recent change does affect Australian pub and restaurant listings.
As an example, we can compare post Google algorithm change search results for 'pubs Melbourne' and 'physiotherapist Melbourne'. Results for 'pubs Melbourne' show that exact street addresses are removed, there is no use of the A,B,C map location thumbnail previously used, nor is there a visible website address.
However, a search of 'physiotherapist Melbourne' shows the A,B,C map thumbnail is still used, the whole street address for each physiotherapist is shown, as is their website. Both still use the star rating system and a link to reviews.
We predict Google will move into further changes that will boost their affiliate-type revenue, collecting a portion from restaurant or hotel bookings. They already have these types of partnerships with several travel and flight booking websites.
There is little that Australian pubs and restaurants can do to defend against changes to Google's business model. However, one way businesses of all sizes can remain competitive is to make their websites more mobile-friendly.
Searches made using Google on a mobile will now rank websites with mobile friendly pages higher than those with just a desktop suitable website. Google's reasoning is that more people are using mobile devices to access the internet, so its algorithms have adapted to these changing usage patterns.
READ: Google 'mobilegeddon' to strike website search rankings tomorrow » 
Even large companies such as Coca-Cola Amatil and Domino's Pizza have been caught with this change. These brands, as well as 66% of Australia's websites will rank lower in Google search results as they don't have mobile specific websites.
So, in short: mobile is now a must. Businesses need to ensure they stay relevant to how consumers search the internet and that their websites appear appropriately on the device they are using. Failure to do so will see brands of all sizes penalised.