Hyundai's Casey Hyun on the company's design-led road to success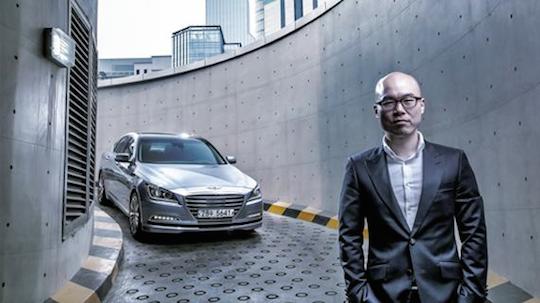 Hyundai Motor Company's creative design manager talks us through the central role design plays in the business, the strength of Korean brands and why it's an exciting time to be designing cars.
Australian designer Casey Hyun is central to the design evolution taking place at Hyundai. The last decade has seen Hyundai rise to from a cheap and cheerful brand to challenge established brands at the premium end of the market, as well as cater to the needs of emerging markets.
Born in Korea and raised in Australia, Hyun studied industrial design at UTS and won the graduate award for his unconventional approaches to design. After stints at several automotive companies, Hyun joined Hyundai 10 years ago, eventually becoming creative design manager and leading the design development of the Sonata YF, Elite i20 and new Genesis, as well as overseeing Hyundai's brand identity and ongoing development of the brand's DNA.
For Hyundai, the road to becoming a 'design-led' brand began a decade ago, when the company rallied around an overarching design philosophy called 'Fluidic Design'. Its successor 'Fluidic Sculpture' was introduced in 2010. The philosophy, inspired by nature's organic shapes and flowing lines, influences all models in the product range, as well as other parts of the business.
A top-five global car maker by sales, Hyundai now sells around eight million cars a year, and in 2014 the company reached 100,000 sales in Australia for the first time. 
The considered and humble Hyun is quick to divert praise to colleagues, but has had a significant impact on the company and looks to give back to the design community, including through the Casey Hyun Industrial Design Graduate Award at UTS and educational presentations.
Marketing spoke to Hyun ahead of his appearance at Vivid Ideas in Sydney next week.
Marketing: You're talking at Vivid on 'design-driven brand transformation' – it sounds like it's definitely not just for industrial designers or even just designers, but business wide?
Casey Hyun: Absolutely. You know about Hyundai. I know about Hyundai. Our family moved to Australia in 1987, which is 28 years now. The first couple of days when we turned the TV on, because we probably didn't have anything else to do because we were just getting used to the place, I remember watching a Hyundai ad. It was all about price, a brand which was basically about selling cars and thinking about cars as a means of making money. I watched it slowly transforming its products, its brand and its company into an upper-echelon, tier one global brand.
I was very fortunate to be given the task to develop a line-up of vehicles, a design, which would define the brand.
It started off with a design philosophy, a consistency of design from the smallest car that we sell in India to the largest car, transforming to a brand where everyone around the world associates Hyundai as a specific design.
That happened since I was here. From 2007 onwards I was in charge of the whole strategic design of the brand. I was able to convince the top management the importance of design and how design would be able to change the perception of brand for people around the world.
M: When you talk about design influencing the brand, for automotive, is it just about product design or does it go beyond?
CH: Of course the end result would be cars but I also take a very active role in what we used to call a GDSI which is Global Design for Space Innovation. We're talking about dealerships, the brand logos, the brand colours.
It's unfortunate but the motor shows in Australia have been cancelled the last few years,  but we developed the large, few-hundred-square-metre booths.
Everything about corporate identity, a brand identity, a design identity, not just cars but in everything visual about the brand, we try to develop a consistent message, communicating a message with our customers.
CH: The philosophy at Hyundai is 'Fluidic Sculpture' – did that start with the cars and evolve to become bigger or was it top down?
CH: I think it was both ways. The top management wanted something which we would be able to communicate in a consistent way. All our designers had a unified consensus, that we need a design identity, something that will define our design to our global customers.
It was almost like everyone dreaming the same thing and then our vice president of design at that time, he wanted to realise this dream.
It was almost like everyone was just waiting for this opportunity and we managed to set up a small group of talented designers, we worked for many years to actually look at the history, the heritage of what we had built so far, then it just worked from there.
Even the top management they were actually very glad to see it. They were all positive about it, but of course doing things that we had never done before, there was also a certain level of curiosity and concerns.
It was almost like it just happened – the spark just flew and everyone caught the idea of it.
M: Has it evolved over time, the underlying philosophy?
CH: Yeah. We officially opened our design philosophy in 2009, but the work started much earlier than that, about 2006, or even before that. It took many years for us to plan and implement it on some of my designs, our show cars, to see the reactions.
So it wasn't just where you just draw, build and show everyone and say, 'This is it.' There was also very objective, rational thinking as well as emotional creating of our design identity.
M: You've been with Hyundai for 10 years. From your point of view as a designer, how has the business, and even the automotive industry in general, changed over that time?
CH: Once I got to Hyundai there was another colleague who studied with me in the UK. We were talking about this in 2005 and the colleague of mine and I said that within five years this company is either going down or going to be extremely successful.
It's very fortunate to actually be the latter which was in a successful direction and it's very nice to know that I had – of course I don't want to beat my own drum – but took a very valuable role in driving this brand to the next level.
M: What is it about designers that make them well placed to take control of not just the identity side of things but the strategic side? 
CH: There are a couple of things. I think one thing is that for a lot of, not just the manufacturing sector, but a lot of business these days try to communicate with their customers, potential customers and the general public in an emotional way.
Let's take a bank for example. About 10, 15, 20 years ago it was all about who gives out the best rates. But as much as the actual product they're selling, people are more concerned about the image that the brand has, and the way the people would be associated by using their products or their services.
I think designers are the very early point, the initial point of contact because we develop the product, we develop the ideas of how we would communicate with our customers. And we also work until the very end, which is the product itself.
From the very beginning to the very final stage, designers are heavily involved in creating the communication ideology – how do we sell this product, what do we need to do?
Another thing that a lot of people don't realise is that designers are very objective and rational people as well as being emotional people. We come up with an idea, we draw, we sketch and we develop cars.
There are some derogatory terms that we used to call the 'arty farty' stuff, that all that designers know about is drawing fancy things without [considering] the cost or marketing.
It's no longer like that. We are fed incredible levels of information: the trends, the marketing, the customers around the world, what they want and what they need to have, the percentage of people who would be buying in certain segments.
We have a great deal of objective information and we diagnose that. We're fed all this information and we need to decipher it, understand it and come up with an aesthetically pleasing product.
I think designers these days take on a greater role because we have information about the facts and what we call the 'emotional fictions' part of it. I think that's why designers are taking a greater role in communicating with the customers these days.
M: What are the main challenges with a global brand? Is it possible to say that good design is universal or is it always a matter of tailoring for specific markets?
CH: That's a very good question. There are premium brands that develop one car and expect people to love their cars everywhere, exactly the way it is.
For example, our more premium cars such as Genesis, which I designed and developed and led the project, we have one design for whole global market.
I was in Australia a few months ago for Korean New Year, which is the same time as Chinese New Year. I was able to drive the Genesis, with the help of HMCA which is Hyundai Motors Australia. It was a right-hand drive, but it was exactly the same car that I drove in the US or in Korea or in Europe. When I travel I actually drive a Genesis all around the world. It's just the same car.
Then again there are places like India. I also led the design of Eon which is a small, entry-level, A-segment car, which is the smallest car that you can find in our line-up.
We also have a car specifically designed for Brazil, the HB20.
So we do both.
We have tailor-made, region-specific products. Places like India and Brazil, which are very unique, have specific needs for certain segments which sell a lot. If we feel that it is needed, we develop a car for that market.
For more premium cars, up to the Commodore, Falcon or Sonata size, we do design the cars for global markets.
It works both ways.
M: Korea is home to a number of really big, global brands, is it something about the Korean approach to design or to business that's behind that? 
CH: That's something that I always talk about with other designers, as well.
We used to call it 'brand premium'. I think the image of Korea has transformed a lot in 20 to 30 years since the 80s or 90s.
I think with Koreans, you would presume with the way of the Asian culture they're very strict and they're very conservative. But in some ways it's the other way around. These guys are very flexible.
Of course they're very homogenous in culture, in race, and they take great pride in that. But that shouldn't be confused with being hard headed. And what I can definitely say is they're very flexible.
They're very open as well: they're willing to listen, they're willing to adopt new things. Having countries like China and Japan right next to you brings a kind of survival instinct out of a small country like Korea. I think they turn that energy into a very positive one.
M: And given you were educated and grew up in Australia, what does that bring to your work? 
CH: I was looking for that question, because if there was a country that's more flexible and more outgoing and more adaptable than Korea, it is Australia.
I always believe that the geographical locale, and the cultural heritage, it's a very unique mix. It's very open, the mateship and the ideas and attitude that we have.
A couple of months ago I spoke to a guy who worked for a large business consultancy in the US, and he said he works with a lot of Australians and he has never, ever met anyone, any nationality that has more – in a positive way – wild and creative ideas than Australians. It was great compliment and I think being in Australia and coming from Australia, we still have this very positive and open image.
It helped me a lot. One thing is that the educational system in Australia which is very open, there are great opportunities for students to venture into a lot of different areas.
One thing that I would really like to do during my presentation at Vivid is say that being educated in Australia is definitely a plus for you to venture into global business. It's really going to be beneficial.
M: Do you notice differences between the way design is placed within different businesses and what are your thoughts on what works best structurally?
CH: I won't go into details or names specifically, but I can say that, to judge Hyundai, its design within a corporate structure, design has a greater freedom than many of the companies I've worked for.
It was a very pleasant surprise to realise. About a decade or so ago they were known for a very rigid, top-down, hierarchical system. When I came, the CEO, the chairman, understood the importance of design. This hierarchical structure worked in a positive way. They really wanted design to have greater power, greater freedom and come up with more creative ideas.
For example, one of the cars that we designed was Eon, a specific, entry-level car. We were able to change the overall height of more than about 180 millimetres during our design development stage.
You might think 180 millimetres is not that much, but the body engineers, the package engineers, the chassis engineers, are also working with us during our development, and for us to change the overall height of a car by 18 centimetres is unheard of.
You might have heard about how designers fight with the engineers up to the last millimetre. I've worked with different companies and they were all very open to design, but to the level where you can totally change the package during the development of a product, it's just unheard of.
M: Right, so, given that nobody's working in isolation, it has to be such a collaborative between functions in the business, does that mean it has to be enabled by leadership?
CH: Oh yeah, absolutely. It's not just the leadership, it's common understanding. It's the engineers, the marketing, the PR, the sales, as well as design. We all understood that design will be the main focus of our brand.
M: I have one last important question and that's what is the car of the future look like? Are you excited? 
CH: I'm very excited. It's almost like going back to the early stage, your adolescence, your days of first sketching a car, when it doesn't really look like a car – it just has wheels and it looks really wild. It's almost like we are getting a second crack at it.
To develop something totally, totally different. I think now it's becoming a reality that we could try something which is very different.
You know the film Avatar? James Cameron actually had this script for Avatar for a very long time but had to wait a few years to actually get this project going was because the technology wasn't there to back it up. He couldn't create the vision he had at the time.
I think that's happening now, or it's going to happen very soon, where car designers will be able to come up an idea that is very, very, very different and revolutionary forms which will redefine another 'AD', the beginning of a second chapter, another beginning of car design.
M: You're referring to your own dreams and imaginings of things that aren't technically feasible now?
CH: Yeah. When the internal combustion engine becomes obsolete, each wheel will have it's own small generating motor. You're not going to have this big block of engine that needs to fit somewhere.
When this happens, and the development of autonomous on this vehicle, a greater level of safety in a smaller package, just imagine if we combine these.
All we need is four wheels… we don't even need four wheels, we could go with three wheels. We can basically come up with ideas. It's so exciting I might just go back after the interview and start sketching a few.
M: Tesla's cars, for example, look distinct but of similar shape overall to traditional cars – is part of the design consideration about not make new designs too scary or too different? 
CH: I guess it's the job of designers to make sure it's different but not too different. A totally different concept that comes along very gently or mildly.
I think we will see a greater level of change now. I think maybe in five or 10 years time you might see cars that don't even look like today's.
M: Intriguing. Casey, thanks so much. I'll let you go and get back to work. 
CH: Thank you very much.