I'm With Her, but he was the better marketer
In the aftermath of the US presidential election, Jacqueline (Jaci) Burns looks at the marketing campaigns of Hillary Clinton and Donald Trump to see who was the better marketer.
I'm excited to be in Boston at my inaugural HubSpot conference. Yet, I missed the first few hours of Inbound 2016. Like so many people, I was up for most of Tuesday night, glued to the television as the results of the presidential election were announced. And then this morning, like so many people, I numbly tried to process what had taken place.
It was fitting, then, that the one of the best presentations I sat through today was one which compared the marketing campaigns of the major political players during the 2016 election.
The currently-unpopular proposition made by presenter and best-selling marketing strategist, David Meerman Scott was that the best marketer had been elected President.
Scott has had a front-row seat at this election. He's been to the rallies, attended the events, spoken to countless voters (or as he likes to refer to them, 'buyer personas').
In August 2015, when he first wrote about the social savvy of Donald Trump (Donald Trump Winning the Social Networking Primaries in a Landside), everyone thought he was crazy. By March 2016 Scott had declared Trump "the real-time marketing master".
What did Trump do so well? And how did the other candidates – both for the nomination, and the race – fare?
Integration fail
According to Scott, every candidate failed to integrate their online and offline marketing.
"I was waiting for one of these candidates to integrate me as a digital person with their physical event but nobody did it", says Scott. "They could have had a hashtag for the actual event; they could have shared photos of what was happening. They didn't follow up with me after the event (yet I'd registered so they knew I was there). It was a total fail of offline and online marketing."
At one rally, Scott thought he might get something from the Hillary campaign, having responded to a social call to action (Text 'Rally' to [number]).
"I did get an acknowledgement", reflects Scott, "and once it started never ended. What I got was remarkable: 'David, we have a fundraising deadline, give us $75. David, we just won New York, give us $75. David, we have momentum, give us $75. Hillary Clinton won the debate last night, give us $75. It's the last day of the quarter, give us $75.' It was endless!"
Hillary's campaign did what most businesses do: sell, sell, sell! What it should have been doing was engaging, sharing content, then selling. It's important to note the Democrats were not alone in this approach.
Old school tactics
Bernie Sanders, who came so close to securing the Democrat nomination, built a movement of millions of people on social networks. Yet Sanders' campaign was completely out of alignment with his supporters. Sanders' supporters were all about online engagement; being a part of a social media movement. But the Sanders campaign, which was being run in an old-school way, was focused on traditional advertising. It spent $20 million on one (stellar) advertisement…which didn't move the needle.
Hillary, also, was largely focused on outdated tactics. So much of her efforts were data-related – her campaign knew everyone down to their zip code, house number, who had voted in previous elections, what precinct they were in. Hers was an unbelievably organised machine. The trouble is, it was largely focused on the voters she already knew. Trump, in contrast, was focused the market at large.
Real-time social networking
The 2016 election was defined by social media and real time marketing and Scott says this is where the campaign became interesting.
"Selfies became a thing at this election. Hillary Clinton is a selfie ninja! Hillary took selfies with everyone and became unbelievably skilled along the way. She'd grab somebody's phone, take a selfie, hand it back; grab someone's phone, take a selfie, hand it back…I counted that it was 7.2 seconds per selfie and here's the thing – we all shared them!"
While Scott acknowledges that Hillary figured out a simple way to get people to share, he declares Donald Trump to be "a real-time marketing genius".
As we all witnessed, Trump commented on all manner of events as they were happening. Often he was provocative. Often he was unpopular. Always his tweets were quoted by the press. Says Scott: "The press was trained to follow him and then to quote the tweets he was putting out."
In marketing circles, we commonly talk about paid, earned and owned media. So, consider this: By November 2016, Donald Trump generated $5 billion in free media.
According to MediaQuant, Clinton spent $28 million on bought media and generated $746 million in earned media, whereas Trump bought $10 million and earned $1.9 billion.
When Gawker published Donald Trump's mobile phone number, he used it as a marketing opportunity.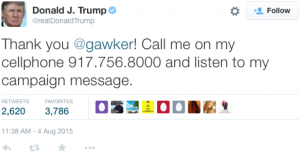 By the time the two major candidates were nominated, newsjacking – the art and science of injecting one's ideas into a breaking news story – was a cornerstone of both campaigns.
Whether it was Trump commenting on Obamacare, or Hillary's 'Deal me in!' retort, both candidates provided fascinating examples of how real-time newsjacking works, and how effective real-time engagement can be.
Surely, you 'Trump-ed' yourself?
News hijacking was not restricted to the candidates or their campaigns. One of the most memorable examples came from the Canadian matchmaking site, Maple Match, which ran a campaign saying, "Make dating great again. Maple Match makes it easy for Americans to find the ideal Canadian partner to save them from the unfathomable horror of a Trump presidency."
Pure gold.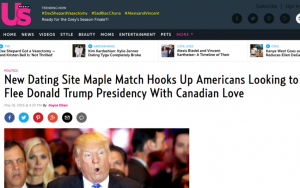 Lessons learned
What does Scott think marketers can learn from the 2016 presidential election?
Jeb Bush, an early front runner, was expected to sail through the nomination but he used the outdated, outbound marketing playbook that got his father and brother elected. He was focused on raising a tonne of money from his campaign and super PACS and then spending that money on traditional advertising. That didn't work.
Bernie Sanders was able to create a very engaged and passionate fan base. They were unbelievably passionate, especially on social networks, but the campaign did not do a good job at harnessing that power for good, and many of those people went to dark places.
Clinton ran a very careful marketing campaign with traditional strategies. Her integrated campaign was amazing – she had social, real time, newsjacking, advertising. Her ground game was phenomenal. She did lots of events but she was focused on the market research approach, the traditional approach. What is the polling data telling me? What are the polls saying? She focused on what got Obama elected and didn't energise voters to go out and vote for her.
"Donald Trump is a marketing genius," concludes Scott. "He has no political experience. He's a reality TV star who relied on two strategies: real time Twitter and mega rallies. And both approaches drove mainstream media to write and broadcast about him. He created an incredibly powerful brand and understood and reached his market.
_
Jacqueline (Jaci) Burns volunteered for Hillary Clinton during the 2016 election.
Image copyright: actionsports / 123RF Stock Photo