Internet of Things: Building digital bridges in a connected world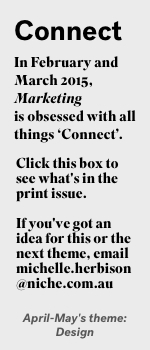 The internet of things – the concept of a world where every object is online – is not just revolutionary from a product point of view, but from a customer service and a marketing perspective also. And it's already here. By Chris Byrne.
Half a century ago, co-founder of Intel, Gordon Moore, foresaw an age of technology where computing power would double every two years. His prediction – 'Moore's Law' – stood the test of time, driving the miniaturisation of processors, sensors and memory components, and placing super computers once the size of a room into the palms of our hands.
Moore's observation is widely credited as accurately foreseeing the relentless march of technology, which continues to forge ahead in new directions. As costs lower, components shrink and networks proliferate, the ability to connect screens, products, wearable technology, homes, workplaces, vehicles and even cities to the internet becomes a growing reality.
This vision of a connected world – one we've all seen in science fiction movies or The Jetsons – is upon us, as the 'Internet of Things' (IoT) equips more and more devices with the technology to monitor, analyse, receive instructions and take action. Many households already boast connected appliances or systems, such as Philips' Hue lighting system, which controls and optimises lighting via a smartphone app. Then there's Samsung's Wi-Fi-enabled Smart Series Refrigerator which, as well as the predictable Twitter feeds, photo slideshows and weather forecasts, can keep track of groceries in the fridge and add items to shopping lists automatically.
Apple's entry into the smartwatch category will likely see wearable technology go even further GE has partnered with telecommunications network AT&T to connect jet engines, allowing employees to remotely monitor, diagnose and resolve issues. And public administrators are connecting infrastructure to create smart cities. There are many, many more examples.
Mind-blowing numbers
Analysts estimate up to 100 billion devices (McKinsey and Co believes only a billion currently are) will be connected by 2020, adding anywhere from US$2.7 to $6.2 trillion to the global economy. Frost and Sullivan forecasts the total Asia-Pacific spending on the IoT to be US$9.96 billion in 2014 and continue to grow at a CAGR (compound annual growth rate) of 34.1 percent to reach US$57.96 billion by 2020.
The IoT has the potential to change the way we live and work, and bring disruptive change to many industries, just as connected screens already have for retail and media. This third wave of the internet will disrupt industries more than previous waves, believes the author of The Great Fragmentation (and Marketing columnist), Steve Sammartino.
"This phase of the internet is a physical phase – it moves beyond virtual to real," he says. "Technology has reached a disposable level. High-end sensors and self- aware technology is cheaper than the packaging most products come in. Supermarkets will go the way of the travel agent… [while] your car will become a rolling computer with an on-board lounge room. This changes everything as we know it."
Oh look, more data
Organisations struggling with big data beware: a new wave of insights is on the way. Up until now, data came primarily from the customer – loyalty schemes, web browsing behaviour, profiles and so on. With connected devices, the data comes directly from the product itself.
In a way, it's a new level of fact in organisations that didn't previously exist: a new set of triggers based on real usage rather than perceived usage, mindset or customer journey. Until now, communication hasn't been triggered by the product itself but from the customer. Preparedness for an added layer of data varies by industry, but is generally low. One marketer we spoke to said many organisations are still getting their head around 'standard internet'.
Some categories, such as home appliance and white goods manufacturers, are on the front foot with connected innovation. Others, like service organisations, are further behind – they're yet to see the opportunity, even though it's no less relevant.
Connected vehicles create implications and opportunities for road traffic authorities and insurance companies, for example (Insurance Box is the first in Australia to equip cars with devices that monitor vehicle use to inform insurance policies). Similarly, business-to-business organisations will be disrupted as workplaces and machinery go online.
The value of product usage data direct from the source is priceless. Digital lead at Accenture Australia, David Maunsell, says the IoT will be a great enabler for the building of digital bridges that need to exist between businesses and consumers. It's a value outcome for both parties – conve- nience and experience for the consumer, and an opportunity to re-engage for the brand. "Digital bridges will give businesses access to genuine insights into their customers' behaviour, wants and needs," Maunsell says.
"If they treat that information with respect and trust, it provides a fantastic opportunity for new insights, new revenue streams and even new markets."
~
Marketing Advantage Member? Download your copy of our Trend Briefing on this topic from the resource library. It includes an extended version of this feature, infographic, exclusive opinion pieces and a debate. PLUS BONUS MATERIAL: Slide deck + audiobook version. Not a Member? Learn how here.
 ~
More data, more opportunities
In a connected world, the definition of the customer experience becomes richer, broadened by the number of devices interacted with and the relationship with the organisation. In many cases, marketers will be able to communicate directly with consumers through the products, as well as use insights built from real-time behaviour to trigger other forms of communication.
"Marketers must understand which messages and what communication [are needed] to drive toward the customer through different devices," partner at McKinsey and Company, Milosh Milisavljevic, says. "Understand moments of truth based on interactions, experience and customer behaviour, which in this multiple device world are more complicated and different. You can better appreciate when is the right time to reach out to them with a specific message."
Not only will connected devices enable a greater level of personalisation, but they also enable automation. The way marketers have communicated in the past is fading out, according to Ryan Bonnici, Asia-Pacific head of marketing for Salesforce Marketing Cloud. "It's moving from broad, campaign-based marketing to customer journey marketing… Less about a push and more about real-time engagement based off real-time behaviour.
"Now [brands] don't have to send a blanket message to 10 million people saying 'you all need this'. They're sending a targeted, automatic message to specific people that are in need of a specific product or service."
These smart automations can extend to standard marketing channels like email and social when a certain condition is triggered. "The customer journey is really explicit, so you can measure and optimise the journey, and connect to customers at different points in that journey when you previously couldn't have," Bonnici adds.
I'm delighted you know so much about me?
Data can help marketers know consumers better than they know themselves. But the feeling of a marketer inside your head, or knowing where you are and what you're doing, can spook people. If messages are intrusive, too frequent or add no value to the recipient, the use of personal information is resented. But if it adds value to their lives, if it delights them, most will welcome it.
Behind every device is a customer, Bonnici reminds marketers. "It should be thought of as the 'Internet of Customers' rather than the 'Internet of Things'. Customer relationship management is more important than ever before because you're managing the customer experience – the product is the experience."
Salesforce has started the task of opening its CRM (customer relationship management) platforms to data from connected devices, with support extended to Google Glass, Samsung Galaxy Gear, Fitbit and Facebook-owned augmented reality tool Oculus Rift.
The collection of data from multiple devices and access points will let organisations predict challenges ahead of time, points out Audrey William, head of ICT research Australia and New Zealand at Frost and Sullivan. "By knowing the problem ahead of time, companies can market new products, and tailor new messages for customers to consider new products or services to prevent the problem from occurring," William says.
CRM platforms will need to mature to make insights relevant to clients at specific points in time, Maunsell says. "The IoT has the ability to ease the friction points that exist with our day-to-day service providers and product providers and the environment."
One size fits one
Connecting products will also impact new product development (NPD) for the better, by providing a stream of concrete product usage data. It will change NPD in a number of ways.
The overriding trend is fragmentation of product range – a one-size-fits-one world, according to Sammartino. "The best advice I can give marketers is to imagine everything that humans make will become a computer. The pace of change is increasing, so it's silly to try and guess what people want. Instead we need to co-create with our customer and share the prize of collaboration."
It will also speed up the innovation cycle. A deeper understanding of how customers and organisations use products and services will allow for more targeted R&D activities, William points out. This in turn will help organisations come up with richer products and solutions that are tailor made for customers. "A faster innovation cycle will speed up competition in various industries such as home automation, home security, logistics and transportation, and utilities. There will be greater innovation around what devices can do, how they can monitor information, their features etc," she adds.
The data itself is potentially a marketable product, Rogers says. Connecting 50 billion devices and sensors brings untold new opportunities for data mining. "The opportunity for marketers is to package the data into new products and services," Rogers says. "Nest [a home climate control automation brand acquired by Google for US$3.2 billion] is a small first step in this process. It takes the data customers passively created in their use of energy to heat and cool their houses and gives it back to them in a useful dashboard format that allows them to more efficiently manage the cost of energy."
For business-to-business marketers, real-time data from workplaces and machinery may be more valuable than the object itself, providing a new service offering and a huge point of market differentiation from what might otherwise be considered commodity products.
Who owns the data; who owns the customer?
Much has been made of the expanding role of marketing within organisations. It's now common for the CMO to be seen as the custodian of an organisation's data, and the owner of the customer. But should this assumption be challenged? The role of marketing has developed from being simply communicators, but multiple departments own at least some part of the customer journey.
Organisational alignment is the biggest issue facing marketing departments and their use of data – not strategy or execution. Data spans multiple departments that often speak different languages. With more touch points to customers, more connected devices and greater insights into customer behaviour, there is a role for marketing to play in generating insights for different parts of the organisation, McKinsey's Milisavljevic argues.
"The role of the marketer will increase in importance as an enabler to the organisation's ability to deal with this level of insight and touch points," Milisavljevic says. "Organisational alignment will be crucial. To achieve this marketers will need to have a point of view on areas that they've never needed to
have a point of view on before." Marketers are in a unique position to lead transformation
within their companies because of their access to insights on customer behaviour and the power of storytelling to inspire the organisation, says Rogers.
"Marketing is too important to be left to marketers. The coming wave of innovation brought by IoT will require that companies see the world in a new way, bringing together product, IT, operations and marketing, all under the vision created by the CEO."
On one hand, the IoT threatens to transform business, the economy, how we live, work and shop, and disrupt the established order. On the other, it promises to create a wealth of opportunities to connect with consumers in different, more personal, more relevant ways. For organisations struggling to turn data into insights and insights into revenue, the future is bleak. But for those who seize the opportunity, the future is bright.
~
Marketing Advantage Member? Download your copy of our Trend Briefing on this topic from the resource library. It includes an extended version of this feature, infographic, exclusive opinion pieces and a debate. PLUS BONUS MATERIAL: Slide deck + audiobook version. Not a Member? Learn how here.
 ~