Internet overtakes TV in Aus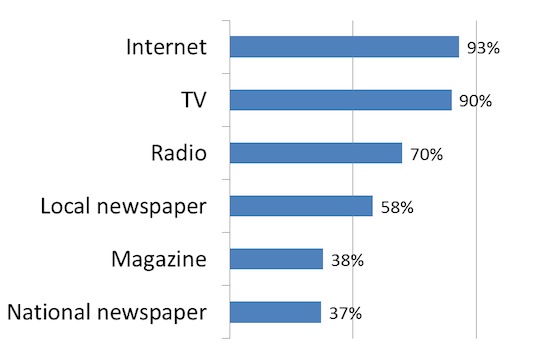 The inevitable has occurred – internet use has eclipsed TV use in Australia.
93% of Australians access the internet at least weekly, compared to 90% who watch TV.
The finding comes from a global study conducted by British governmental body Ofcom which shows that internet use is also edging towards parity with or exceeding the use of TV in France, Germany, Italy, the UK and US.
Weekly use of media – Australia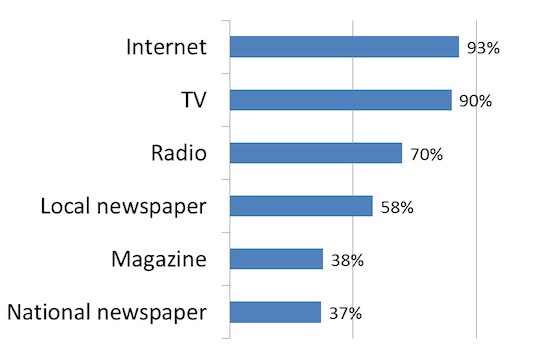 Radio is listened to weekly by 70% of Australians (but only via digital radio for 11%), 58% read local newspapers regularly and 37% read national newspapers.
Australians were the least likely to be frequent magazine readers out of the six countries compared.
The International Communications Market Report 2011 was conducted by the British government to benchmark the UK communications sector against a range of comparable countries.
Conducted in October 2011, it investigated take-up, provision and use of services in the UK and 16 other countries.
It also compared the uptake of innovative devices in France, Germany, Italy, the UK and US, which yielded some interesting results:
When it came to tablet uptake, Australia led the way with 12% of survey participants using a tablet computer
Australia ranked equal third for smartphone adoption at 48%, ahead of the US (42%) but behind the UK (50%)
we ran middle of the field for digital radio penetration with 11% adoption, but well behind the leading UK at 34%, and
the investment in high tech televisions has been slow to date, with 9% having purchased a connected/ smart TV and 6% a 3D-enabled TV.