China Mobile, banks and Baidu are China's most valuable brands
While the global economy struggles, China continues to forge ahead with a 16% increase in the value of the nation's top 50 brands for 2011, with China Mobile and the big four banks topping the rankings and FMCG and online brands showing the greatest growth.
According to Millward Brown's BrandZ study, China's top 50 brands are worth a combined US$325 billion.
The study also revealed that changes are afoot in China as the nation shifts from maker to innovator, the middle class expands and consumers become increasingly brand-savvy.
According to Adrian Gonzalez, COO Africa Middle East Asia Pacific at Millward Brown, rising incomes have seen Chinese consumers becoming more informed and discerning about brands.
"Trust is becoming a particularly important factor for brands in China, particular for FMCG brands, since Chinese consumers are willing to pay more for a brand that they trust," Gonzalez says.
"As a result, brands in China have never been more important. Chinese brands have been working hard in both lower and higher-tier cities to establish their status more broadly in China."
China Mobile, the world's largest telecommunications provider with 600 million customers using its services in 2011, retains the number one spot with a brand value of US$53.6 billion. The remainder of the top five is dominated by banks: ICBC (Industrial and Commercial Bank of China), Construction Bank of China, Bank of China and Agricultural Bank of China.
China's top 50 brands for 2011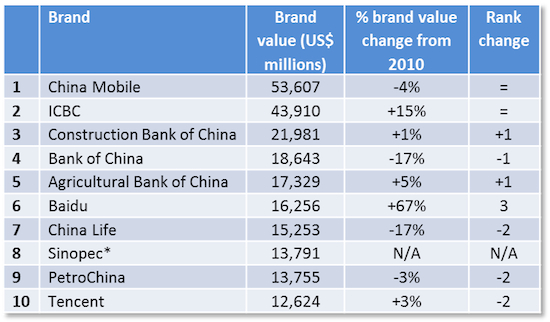 *Brand not comparable to last year
FMCG brands have dominated in numbers and driven the growth of the top 50 this year, with cooking oil and rice producer Fulinmen growing by 138% and dairy giant Mengniu increasing by 66%. Seven out of the 10 top risers are FMCG brands which include alcohol, food and dairy, apparel, retail, pharmaceuticals and beer brands.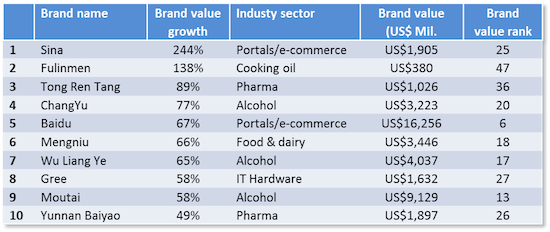 Additionally, the report identifies China as the biggest social media market in the world, with web portal Sina experiencing the greatest growth (244%) out of any Chinese brand. The site has over 220 million subscribers who send 86 million messages per day.
Baidu, the country's biggest search engine, also made it into the top risers with 67% growth in brand value. And three online brands forced their way into the top 50 for the first time – Renren (a social networking site similar to Facebook), Ctrip (an online travel site) and Sohu (an internet portal).
BrandZ's China Top 50 combines financial data from Bloomberg and Kantar Worldpanel, and consumer opinion gathered from interviews with over 35,000 Chinese consumers to generate its ranking.