iPhone 5 fails to woo new Apple customers, Android retains lead
Apple's iPhone 5 has largely failed to woo new customers to the brand, taking the majority of its sales from existing iPhone owners to leave Android as the most-owned operating system in Australia.
Since overtaking Apple's iOS as the most common smartphone operating system in July, Google's Android has continued to pull ahead, despite September's launch of the iPhone 5.
While the new iPhone's release managed to boost iOS' share of sales back up to equal with the combined sales of Android-based devices – a position it hasn't occupied since December last year – it is yet to have an impact on the overall share of smartphone ownership in Apple's favour.
Data from Kantar WorldPanel's ComTech study of 10,000 Australian mobile phone owners, released exclusively to Marketing, shows that, as of the end of October, Android commanded 40% of smartphone market share compared to iOS' 38%. In the month of October, the iPhone 5 accounted for 32% of smartphone sales, well above the 20% enjoyed by Samsung's flagship model the Galaxy S3 at its peak in August. In October, the S3's share of sales dipped to 11%, while in total Samsung's extended stable of handsets accounted for 29% of smartphone sales.
Share of smartphone sales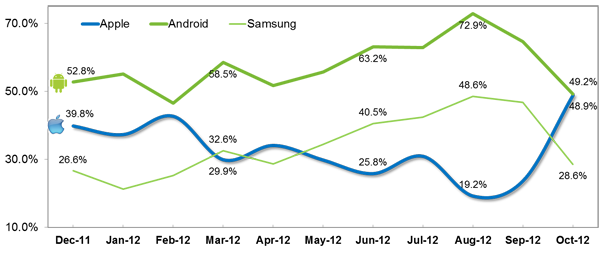 Note: Samsung figures are a sub-set of the overall Android figures.
Kantar found the recent growth in Apple purchasing has caused little to no change to Apple's share of smartphone ownership levels, with almost 80% of iPhone users who upgraded in October buying another iPhone. Strategic insights director at the research group, Tamsin Timpson, says Apple is not attracting new customers to the same extent as Samsung.
"It seems people want something a bit different," Timpson says. "The image of the Apple brand is still very strong, and that comes through in the loyalty figures, but there's definitely a group of people out there that want something different."
That group is more likely to be and older and male than the iPhone buyer, according to the data, which shows the Galaxy S3 owner significantly more likely to be male and over 34 years of age.
"When there is a new iPhone launch, the profile of its owners becomes younger and more female dominated each time," Timpson adds.
Cost is also a factor for many late adopters of smartphones, making the range of cheaper, pre-paid Android models more attractive to new customers.
While the larger screen of the S3 is seeing an Android-based handset eclipse the iPhone for usage of the mobile web, photos, gaming and other features suited to the big screen for the first time, the iPhone continues to outstrip its rival when it comes to other high-use smartphone functions.
The heavy use of these features such as social networking and shopping on the iPhone is driven by the younger, more female owner base, which Timpson believes prefer Apple's sleek, fashionable design and brand image. "It's a fashion thing… the features that are more mainstream, such as social networking or shopping, tend to over-index on the iPhone, while the lower penetration usage functions, such as mobile TV, over-index for the more male Samsung audience."
However, despite ceding ground in the content battle, the iPhone still reigns supreme when it comes to value to manufacturer and telecommunications carriers, and loyalty. iPhone 5 owners spend slightly more on contracts per month – $69.16 compared to $63.56 for S3 owners – and far more on apps per month – $2.78 on average compared to $0.44 for S3 owners. Over the course of a two-year contract, this equates to around $134 more for service plans and about $56 more through app stores per user.
Loyalty to the Samsung brand languished at 50% in October compared to the 80% repurchase rate enjoyed by the iPhone. But for those who switch away from an iPhone, Samsung is the preferred choice, setting up a rivalary between the two brands that looks set to intensify.