iPhone sales slide while Android surges to start the year
After closing 2011 on level ground, the iPhone has fallen behind Android-based handsets in its share of new smartphone sales, as the pre-paid market and 4G become the next battle grounds for the two brands.
While the iPhone still ranks as the largest smartphone operating system in terms of market penetration in Australia, its share of new sales plummeted from 44.3% in December 2011 to 29.9% in March 2012.
Kantar Worldpanel's ComTech data, provided exclusively to Marketing, shows how sales figures fluctuate as the smartphone war is waged on product and pricing grounds, with carrier promotions and new phone launches impacting on sales figures from month to month.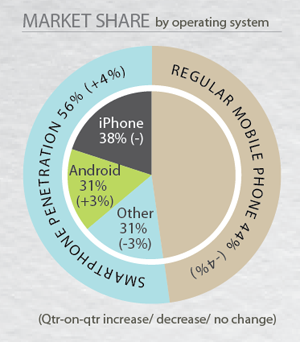 Smartphone penetration has risen again in the first three months of the year, up from 52% to 56% of mobile phone owners. 38% are iPhone owners, a figure that has remained stable over the past quarter, but Android is closing the gap, having increased its share from 28% to 31%.
Read: Marketing's market wrap infographic detailing iPhone and Android's performance during 2011.
Android's sales figures over the past month shot up though, accounting for almost 60% of smartphone sales (around double Apple's 29.9%), signalling that it will close the gap even further on Apple in terms of penetration.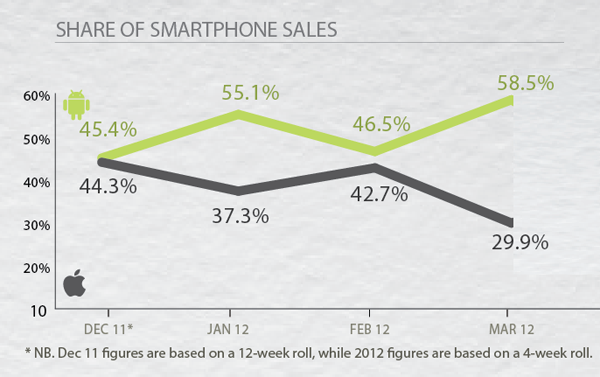 However, signs may not be as bad for iPhone as they appear, according to Kantar's strategic insights director Tamsin Timpson. Despite its fall over the past quarter, iPhone sales figures have remained static year on year, indicating that March may typically be a slower month for the brand.
"Signs are not all bad for Apple but they will have to do something to hit back," Timpson explains. "They hit their peaks when the new iPhone's come out, and when there's price promotion to try and get rid of the old handsets."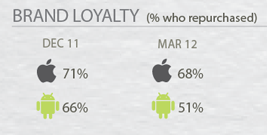 There are also signs Apple is losing its stronghold in the contract market, Timpson adds, even though loyalty among Apple users remains high – around two-thirds of iPhone owners in Kantar's 10,000 strong ComTech panel repurchased another iPhone when the time came to upgrade.
What looms as a threat to Apple's dominance of the contract market are the new generation of 4G smartphones, which have tracked strongly since their launch. Models such as Samsung's Galaxy S II HD LTE are performing strongly enough to drive significant share of new buyers to Telstra, according to Kantar's data.
Telstra CEO David Thodey supported the findings, revealing the HTC Velocity 4G, released at the end of January, became the telco's third highest selling consumer post-paid handset in a matter of weeks, indicating strong interest in 4G models.
Users of 4G phones indicate they're heavy users of non-voice features, a characteristic dominated by iPhone users up until now, with up to 59% of 4G-enabled handset owners using more than 11 non-voice services per month, more than iPhone 4S users.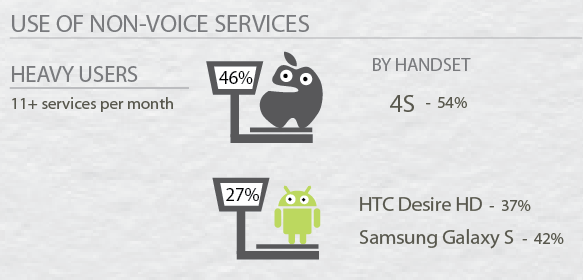 Adding to Apple's challenge is the growth of the pre-paid smartphone market, a segment where Android boasts many options but iPhone doesn't play in. "The average price of a pre-paid mobile has halved," Timpson says. "Their [Android handsets] pricing is very aggressive at the moment, adding to the success of Android."
For the moment, the sales figure tells a negative story for Apple, making the success of the iPhone's next release critical. Timpson predicts that Apple will hit back, but as Android goes from strength to strength, we can expect to see an ongoing battle between the two.