Latest campaign for Tigerair's Infrequent Flyer Club stars chicken that wants to fly higher than an eagle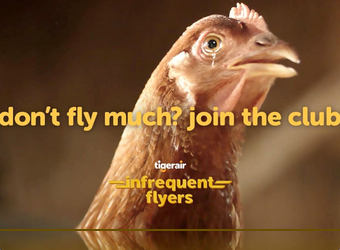 Tigerair Australia has launched its second marketing campaign for its 'Infrequent Flyer Club', starring a chicken.
The Club was set up for Australians who don't fly as often as they would like but still want to be part of a frequent flyer scheme. While other frequent flyer programs reward people by the amount they spend, Tigerair's infrequent flyer program doesn't discriminate. It even lets members choose whatever level they want to be, with card colour options from 70s brown all the way to "triple emerald sapphire ivory". As long as you print it yourself.
A new menu that members can download enables infrequent flyers to enjoy their own gourmet airline food – as long as they cook it at home.
Tigerair commercial Director Adam Rowe says the Tigerair brand is an enabler, "providing everyday Australians with the ability to explore their own backyard for the first time or more often than before."
"The Infrequent Flyer Club is essentially a customer relationship management platform that allows Tigerair to keep Infrequent Flyers up to date with great deals to great destinations, and fulfil its mission of putting more people in the sky.
"It's also about better engaging our customers with our brand in a fun and unique way. As well as infrequent opportunities to hear first about news and special deals there will also be exclusive opportunities to win some great travel prizes along the way," Rowe said.
http://youtu.be/0HT2pPfre9M
McCann Melbourne is behind the campaign and the concept itself, which now boasts over 500,000 members. The new campaign will feature the airline's first ever cinema advertisement through cinemas in the key markets of Melbourne, Sydney and Brisbane, with the Infrequent Flyer Club advertisement appearing just before the latest instalment in the popular Hunger Games series: The Hunger Games: Mockingjay Part 1. The new 90-second 'Chickens' spot will air in cinemas across the country.An integrated marketing campaign including YouTube and other paid media channels, such as cinema, radio and digital which all launch from today, will drive traffic to the website, and further increase brand awareness and consideration across Australia.
Pat Baron, Executive Creative Director of McCann Melbourne, said: "The Infrequent Flyer program represents exceptional value for Australians who don't fly all that often. And who better than the chickens of Australia to represent those who just don't fly that much? It's a deliberately fun and unconventional spot, just like the program itself."
Adrian Mills, Managing Director of McCann Melbourne, said: "Who really needs a lounge when we travel? Most of us have one at home. The Infrequent Flyers Club highlights Tigerair's focus on keeping things low-cost and great value."
In October 2014, Virgin Australia announced plans to purchase the 40% stake in Tiger that it didn't already own for AU$1.
Credits
Client: Tigerair
Commercial Director: Adam Rowe
Marketing Specialist: Natalie Pasquale
Marketing Executive: Megan Coningsby
Marketing Coordinator: Lachlan Wright
Agency: McCann Melbourne
Executive Creative Director: Pat Baron
Creative Director: David Ponce de Leon
Associate Creative Directors: Andrew Jones
Managing Director: Adrian Mills
Senior Account Manager: Will Hollosy
Group Account Directors: Serrin Dewar & Alec Hussain
Senior Planner: Danish Chan
Agency Producers: Victoria Conners-Bell & Chelsea Nieper
Production Company: Airbag Productions
Director: Raphael Elisha
Executive Producer: Fiona McGregor
Producer: Samantha Kelly
Editor: Roberta Horslie
VFX Supervisor: Nick Wright
VFX Lead: Adrian Oostergetel
VFX Artist: Luke Davies
Post Producer: Tanya Stankovic
Sound: Electric Dreams
Executive Music Director: Cornel Wilczek
Music Producer/Engineer: Pascal Babare & Gus Franklin
Performers: Pascal Babare & Gus Franklin
Chicken Man: Dan Witton
Studio Producer: Danny Thiris