Love it or Hate it four: Intrepid chief purpose officer on impact, profit and owning mistakes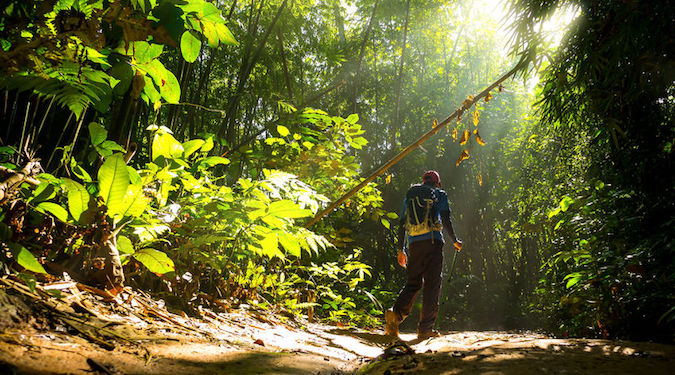 Warren Davies speaks with Leigh Barnes, chief purpose officer at Intrepid Travel, about story, impact and why being purpose-driven also means owning one's mistakes.
"Owning our mistake, we've actually seen sales go up in those regions. By giving a damn and changing what we do."
Tired of the circular, cynical conversation about brand purpose online, I'm leaving the bubble to go a little deeper.
For this four-part series, I have spoken to four people in diverse roles that intersect marketing: Domino's chief procurement officer, the chief customer officer at Powershop, 2018 Agency of the Year founder and here, perhaps the only chief purpose officer in Australia. I ask: What is Purpose? Does it matter? Should we keep it to ourselves or should we run from the meeting room and hide under our desks?
In the first two conversations I met with people encouraging good work at their organisation. They do this and grow this both because that's important to do and because it's the kind of organisation they want to work for and see in the world. The third conversation took a different track with someone who felt purpose can confuse matters when a 'single motivating thought' is preferable for a business. In this final interview, I met with someone heavily committed to making the world a better place, for whom good business is just an added extra.
Warren Davies: what do you believe purpose is, in a brand and business context?
Leigh Barnes, chief purpose officer at Intrepid Travel: There are two ways it's being talked about right now: individual purpose, where organisations encourage their staff to find their purpose: 'why do you come to work? What are you doing as a person?' When people find that, it fuels better engagement and better performance. The other way is from a business point of view: what is the actual purpose of the company? What are you in the business of doing and what is the benefit you want to see? The way we look at it, it's about creating the best travel experiences in the world and ensuring they are the best for the community, best for the customer, best for our people and best for the planet.
Why does that matter to you?
For me, it's my own personal journey. Finding my own purpose and helping other people to grow has been immensely rewarding. So has working somewhere where we put people first and the people are energised, happy, healthy and want to make cool stuff happen.
How does purpose fit in at Intrepid?
We focus on purpose and profit. We believe the two of them are linked. You need a purpose to be profitable and you need profits to have more impact. Internally we empower our staff to run initiatives and focus on purpose projects. We're carbon neutral, our travel invests in local communities, we donated 10% of profits to our foundation. But the main thing is our product delivers on our purpose.  
I saw a piece on Venice recently and the huge amount of tourist numbers coming in and the impact that is having locally. How do you grow what you're doing but keep it sustainable?
Over-tourism is a major problem and Venice is a classic example. Barcelona comes to mind too. We tackle this by diversifying our product range. One-in-ten jobs globally is in tourism, people still need it for money and self determination, but we want to lessen the impact. Last year we saw the Swiss Alps were popular so we thought 'what about the Tatra Mountains in Poland?' The Greek Islands were big so we looked at Cyprus.
Being a purpose-driven company also means owning our mistakes. For years we were advertising elephant rides. It was the Instagram photo. We were part of that supply chain. Then we did some research with WAP and realised it was terrible for the animals and we put our hand up and said 'this is not the right thing to do.' It was pretty nerve-wracking at the time because Asia was 30% of our sales. But by doing that and owning our mistake, we've actually seen sales go up in those regions. By giving a damn and changing what we do.
How does purpose relate to your role?
There aren't many chief purpose officers. Patagonia has a head of philosophy and there are chief impact officers. I spend a lot of time explaining my job! A few years ago we set up two roles: a chief growth officer in London and a chief purpose officer here. These two roles report to the CEO and are about owning those functions and taking them to the next step. My job is to ensure we grow with purpose and do the right thing. We have goals, for example to be carbon positive by 2020, we're investing 1% of revenue for the whole group to purpose projects and also being a B Corp. It's about implementing those methodologies through the group.
Do people readily see the connection between growth and purpose?
I do get a bit annoyed about some of the cynicism. If you're helping your supply chain, helping them to be better, if you're helping the local community that business is in, then it's helping their people and it's helping your business. It doesn't have to be money – it could be expertise, it could be helping their marketing, it could be helping them source clean energy. It's just common sense, but it doesn't always seem to resonate [with observers].
Do you think it impacts perceptions of Intrepid with customers?
I think so. There's two things. Since we've focused on it we've grown faster than our competitors. Secondly, it's a reason to travel with us again. We do the research here and first up it's about the product, price, itinerary and so on. When they travel again it's because of what we do and how we do it. It's the initiatives on the ground, the foundation, all of the projects we do. It really helps to build brand affinity. But you've still got to have a great product. Just because you have purpose doesn't mean your product can be lower quality. It's got to be amazing too.
Is that cultivated deliberately? This purpose story? For example, ending the elephant rides?
We definitely promote it. I don't know if the call to act is that strong [with that announcement] but the logo is there. We are looking to do the right thing but we also want to see an upside. We need that upside to do better work. We need those win-wins. We helped fund the 2040 film. In Tasmania we helped fund a seaweed farm that draws down carbon, it grows incredibly fast. We're promoting that. We're going out there saying 'we're on the road to becoming climate positive' and we're talking to our customers about it.
What do you say to people who are cynical when brands lead with their purpose?
When brands do? There are two things. When brands do, and they don't understand their impact and they're not putting their money where their mouth is? That's not great. I'm cynical about that. Secondly, it is so much better if the business is doing cool stuff: for people, for communities, for the planet. Get out there and promote it and talk about it. For us, having a good product, it has meant more money that we can invest back in to communities, and it has meant more engaged customers. If it's just a brand and just a marketing thing though? Danger! All sorts of weird stuff could happen.
What's next for Intrepid in this area?
It's about connecting purpose more deeply into the business. It's about getting all the systems aligned, getting 1% of revenue into projects helps as it's part of our P&L. A large part of my role is about getting it into everyone's role.
* * *
For mine, there is no other choice. We must make better business decisions every day and align our business imperatives with what the world asks of us. These conversations have encouraged me to look deeper again at what is possible for good business. If you agree, look me up and let's work on something good together soon!
Image credit Mohd Hairul Fiza Musa © 123RF