Lynx brand grows up: 'It's not just about getting the girls anymore'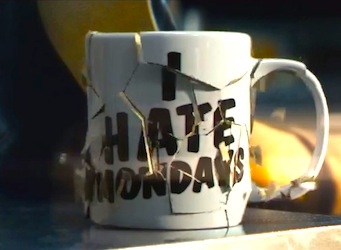 Deodorant brand Lynx is getting ready for its "biggest year in a decade" with a mature new approach to brand creative.
Unilever men's deodorant brand, Lynx today announced its plans for the back half of 2014 with a new brand creative platform, collaborations with international creative artists and an upgrade to product packaging hitting shelves this month.
Marketing communications for Lynx have long centred around 'dating success', regularly drawing criticism for encouraging sexism in adolescent males as well as for hypocrisy for doing so while the brand's stablemate Dove espouses 'real beauty'.
An ongoing global initiative for the Lynx (known as Axe in some other markets) brand will see brand refocus its messaging from success in the mating game, to getting guys ready to face the world with confidence, starting with the release of two new adverts across national television and cinema spaces.
READ ALSO: Universal charm – Unilever brand profile »
The TVCs take what people love to hate about Mondays and Wednesdays, and flip them around for the modern man to help him see the untapped potential of these work days.
The TV spots titled 'Monday' and 'Wednesday' were directed by Riff Raff Films' Jonas Euveremer and Francois Rousselet, who have previously worked on the films clips for Iggy Azalea, The Presets and Madonna.
Lynx 'Monday' 45-second TVC:
'It's not just about getting the girls anymore'
"Lynx has always had a bit of fun in the visual ad space with major blockbuster-type commercials, and this same approach is evident in the new spots," says Lynx marketing director, Jon McCarthy. "Lynx is talking to the most influential generation of men, whose priorities are getting ahead in their careers or becoming established in society,"
"It's not just about getting the girls anymore. It's about becoming the best version of you and getting ready to take on life."
The ads will launch in line with a new packaging design for the entire Lynx fragrance, shower gel and anti-perspirant range. The upgraded product hardware, developed by the team that designed the Virgin Galactic space project, is sleek and sophisticated and will create a clear differentiation on shelf between the different fragrances in the Lynx daily fragrance range.
The new hardware will feature in the latest national outdoor campaign. The posting will run for a total of four weeks with major sites in key city suburbs.
Two weeks following the initial posting, two ad sites in Melbourne and one in Sydney will be hijacked by international street artists Yok and Sheryo as part of the new Lynx 'Expression Series' campaign. This ongoing project, developed by creative agency Soap, connects Lynx with contemporary artists to create content around the new brand identity. The content released from the 'Expression Series' campaign will live online and through creative merchandise.
Lynx 'Wednesday' 50-second TVC