Musicians reveal opinions on 'selling out' in Jack Daniel's branded documentary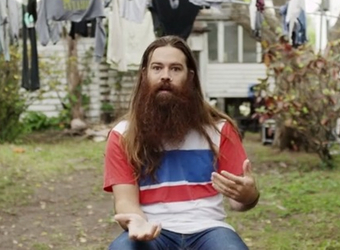 A documentary about bands, brands and honesty explores how burgeoning Australian musicians feel about corporate influence and selling out. And it's a branded content piece by Jack Daniel's.
A new documentary titled 'The Truth About Money in Music' features Australian musicians giving their views on what declining record sales mean for musicians and how they are adapting to alternative revenue streams in the modern music landscape. The interviews reveal their opinions on music streaming, corporate involvement and their definition of 'selling out'.
The thought-provoking piece is part of a branded content platform by whiskey brand Jack Daniel's.
The documentary is the work of Dan Graetz, an award-winning Brisbane-based filmmaker, who has partnered with Jack Daniel's as part of the brand's announcement of a new marketing initiative that aims to champion music's future legends and the stories behind them. 
'The Truth About Money in Music' is the first project in the Jack Daniel's Future Legends series, and launches today as part of an integrated campaign for Jack Daniel's by The Sound Campaign and UM.
Jack Daniel's will support and showcase up-and-coming talent through a series of music projects built around "real ideas from real talent and real fans". Over the next 12 months, the program will create a platform for people and passion to come together and start shaping and sharing music's 'Future Legends'.
Dan Graetz, founder of Graetzmedia said bands with no money have more competition than ever before just to build their profile: "In creating music videos over the past four years, my team and I have made fireworks, gutted cars, cloned humans and more – usually on a shoestring – to help new talent stand out against cute kittens, dancing babies and big budgets," he says.
"There's nothing lucrative about it but it's fun and it forces you to be creative in every sense of the word.
"When Jack Daniel's showed interest in supporting creative music-related projects, I figured I'd go for broke… so I pitched this documentary around musicians, brands and honesty. It was great they liked it and even better that they gave me the freedom to stay true to the concept. This is the result."
Nora-Kate O'Connell, Jack Daniel's brand manager says: "Jack Daniel's has a rich musical history and know legendary music moments come from exploring the fresh, new and different, whether that's sounds, people, places or ideas. Working with the most interesting artists and creatives from around the country, we're encouraging trailblazers and raw talent to think outside the box."
The series will also see Jack Daniel's collaborate with the likes of Bloc Party's Kele Okereke, Sable, Motorik, The Griswolds, Golden Features and others.
The campaign hashtag is #JDFutureLegends and the campaign site is music.jackdaniels.com.