Content marketing a major challenge for 87% of B2B marketers: Forrester study
87% of B2B marketers surveyed are struggling with the major challenge of content marketing, with only 14% finding their current strategies very effective.
51% of marketing leaders rate their content marketing practices as 'very mature', and a research company is warning that much B2B content marketing effort is not as mature as companies think.
Forrester Research, the Business Marketing Association and Online Marketing Institute have released a research report showing key findings and advice on boosting content strategy.
The study surveyed 113 marketing leaders in 12 industries, including business software, information technology, professional services, industrial manufacturing, financial services, and insurance.
"The majority of B2B content practices focus too narrowly on early-stage buyer acquisition. When content fails to engage buyers throughout their lifetime, sellers risk losing more empowered customers to more responsive competitors," the report says.
Most companies (47%) stated their primary content marketing focus as creating content for distribution channels such as websites, social media, advertising and print publications.
72% said that less than half of their marketing staff play a primary role in content marketing.
71% of respondents said a person or a small team sets and oversees the execution of their content marketing strategy but only 34% consistently document their content marketing strategy and guidelines.
Forrester determined that many B2B content marketers need to improve on the following points:
Consistently incorporate customer feedback into editorial processes,

document the content strategy and hold business teams accountable to guidelines,

establish an editorial board chartered with extending best practices company-wide,

arm field teams with technology and processes that fuel demand and manage content, and

refine metrics to demonstrate clear correlations between content and business outcomes.
The four types of B2B content marketer
The report segments B2B content marketers into four groups: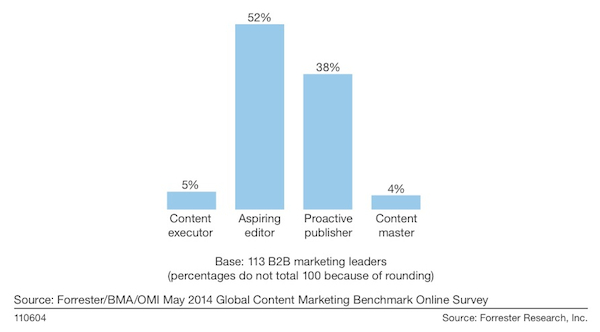 Content executors: currently have ad hoc content marketing practices. These marketers need to audit their content to determine what is useful and why, including qualitative insights from sales and customers, and analytics including downloads, shares and views.
Aspiring editors: are beginning to assemble and execute a content strategy. These marketers need to focus their activities and put in place editorial oversight to streamline content production.
Proactive publishers: take a developed and consistent approach to content marketing. These marketers should measure content's impact on business goals, driving brand value and demand, as well as reviewing the technology they use.
Content masters: follow documented processes with formal editorial oversight and invest in technology. These marketers should continue to evaluate their analytics and ensure content is reaching customers at every stage of the customer lifecycle.